Two new drugs, bedaquiline and delamanid, are proving to be the very last lifeline for tuberculosis (TB) patients with the most extreme forms of drug resistance. While a few patients benefit from these new drugs in India, many die before being able to access them as they are not widely available.
Nischaya, eighteen years old, receives the drug delamanid through Doctors Without Borders / Medecins Sans Frontieres (MSF). She lives in a tiny brick house in the Ambedkar Nagar slum in Mumbai, together with her parents, brother and grandmother.
Like Nischaya, over half of Mumbai's population live in overcrowded slums, where TB bacteria is easily transmitted due to the high population density and poor housing and environmental conditions, such as poor ventilation.
MSF provides TB treatment to patients with the most severe resistance patterns in Mumbai. Patients seen by MSF have often previously been treated with ineffective regimens for several years by public and private practitioners. Some are also believed to have been directly infected in the community by extensively resistant strains.
Nischaya was diagnosed with TB four years ago and was first put on treatment in a public hospital. Her health didn't improve after six months of treatment, and she was then diagnosed with multi-drug resistant TB. The family then decided to turn to a private doctor.
"We knew that it was going to be an expensive affair. We sold our gold jewellery and a small piece of land to save her life," says her father, Vishwas.
Unfortunately, even after twenty months of treatment, Nischaya's health did not improve. "We spent a huge amount of money, around 450,000 rupees, but the treatment didn't work. It was a complete waste of time and money," he says.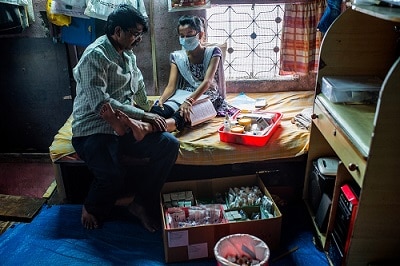 Nischaya's brother, Ajay, was almost about to quit his education and get a job in order to help fund the treatment for his sister. He says he is happy to see that his sister is now gaining weight and is feeling better. "Before, she was really thin, almost like a stick," he says.
"One night she had a terribly high fever for two, three days," says Nischaya's father. "We tried some home remedies, but it didn't work. I decided to take her to the doctor, but before we could reach there, she fell off my shoulders and collapsed, right there on the road. I didn't know what to do. I sat there for three or four minutes in shock, thinking that she was dead."
After being taken to the doctor, she recovered. Vishwas later found out about MSF from a family friend. Nischaya was taken to MSF's private clinic and was diagnosed with extensively drug-resistant TB (XDR-TB) – meaning she was resistant to nearly all available TB drugs. After eight months of treatment for XDR-TB, Nischaya's sputum samples still showed signs of the TB bacillus. In September 2015, she became one of a handful of patients to receive delamanid.
Since delamanid is not registered in India, MSF is obtaining the drug through a special importation process, which has to be made on an individual basis. This is often a long and time-consuming process, which causes delays in initiating patients on treatment, some of whom are in critical condition.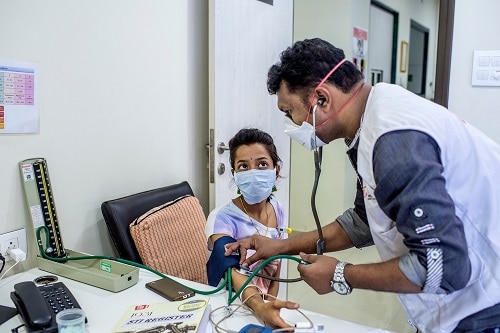 "These new drugs are really the last lifeline for patients who have ran out of all other options," says Pramila Singh, MSF Clinic Manager. "When they arrive at our clinic, they are often in a really bad state. We have had patients who died before they could be put on treatment. Maybe they would have been alive today if these drugs had been available more easily. Access should be expanded for all those whose chances of survival depend on them."
In Mumbai, MSF aims to demonstrate the importance and feasibility of adequate TB testing, treatment, counselling and comprehensive adherence support, with a specific focus on the most resistant TB strains. Patients like Nischaya are fully tested to determine which drugs they are resistant to. MSF then offers an individually tailored treatment regimen based on the resistance pattern. Finally, adequate counselling and patient-centred support is offered in order to make sure that patients take their treatment correctly until they are cured.
Now, a year after starting on delamanid, Nischaya's health has improved and she is gaining weight. She is currently studying hard to pass her high school examinations this year.