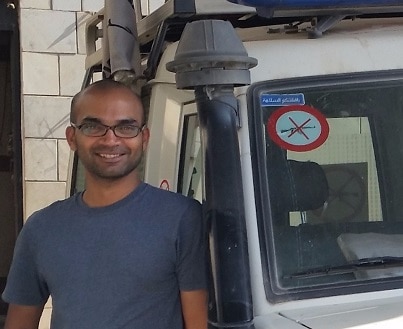 Nishith Kumar, a medical doctor from Bihar, recently returned from Yemen, a country ravaged by two and a half years of war. In this interview, he explains the impact it has had on patients, and how MSF teams dealt with an unprecedented cholera outbreak.
Ad Dhale is not a place many people in India have heard of. What is it like?
Ad Dhale is a district in southwest Yemen. It reminded me a bit of my hometown Darbhanga in Bihar because of the way houses are built and arranged, the presence of small stores along the streets and carts selling street food, and poor waste management with garbage strewn all around.
Compared to many other places MSF works in, the population of Ad Dhale seems to be better off economically. I have often seen expensive vehicles moving around, and many people own cars and motorbikes. However, their healthcare options continue to be limited due to the ongoing conflict in Yemen. Also, poverty is common in the surrounding villages, and the hospital I worked in is the only public hospital catering to a large population. MSF has been working towards providing the population with free and quality healthcare.
What does MSF do in Ad Dhale?
To address healthcare needs in the region, MSF carries out medical activities at two locations in Ad Dhale district – one is a general hospital in Ad Dhale and the other a small emergency facility in Qataba, about 40 minutes away from Ad Dhale. We also support a few public health centres in the area.
Qataba is a short distance away from an active frontline. So we keep receiving patients with gunshot wounds and sometimes blast injuries. A high proportion of the gunshot injuries are from civilian conflicts as well. Guns are so ubiquitous in Yemen that any small conflict can escalate quickly. Getting shot by stray bullets from celebratory fire frequently happens. Road trauma patients are also quite common. A combination of hilly terrain, motorbikes, and rash driving often doesn't end well.
"The timing of his discharge was really good, because it was three days before Eid. He left smiling. It was one of the most memorable moments of my year in Yemen."
In Qataba, the idea is to stabilize the patient and, if needed, transfer them to a higher centre where more procedures or treatment can follow. One such centre is Ad Dhale where we have an operation theatre and surgeons working round the clock, as well as medical, pediatric, and malnutrition departments. Ad Dhale is a small town, but the hospital caters to a very large area. Patients come from many surrounding villages. I have been told by many locals that they think the quality of care has steadily improved in Ad-Dhale, and it is much better there than in many well-known hospitals in even the bigger cities.
What is the biggest challenge patients face in Yemen?
After two and a half years of war, access to healthcare in Yemen is severely limited. Hundreds of health facilities have been closed, damaged or totally destroyed during the conflict.
The war has also made movement very challenging. There are so many checkposts that getting around is not only difficult but expensive. This has had adverse effects on people's ability to seek healthcare. Patients from one part of the country are reluctant to travel to another part, if it involves moving from North Yemen to South Yemen or vice versa, even when it is their only option, because it is expensive and complicated.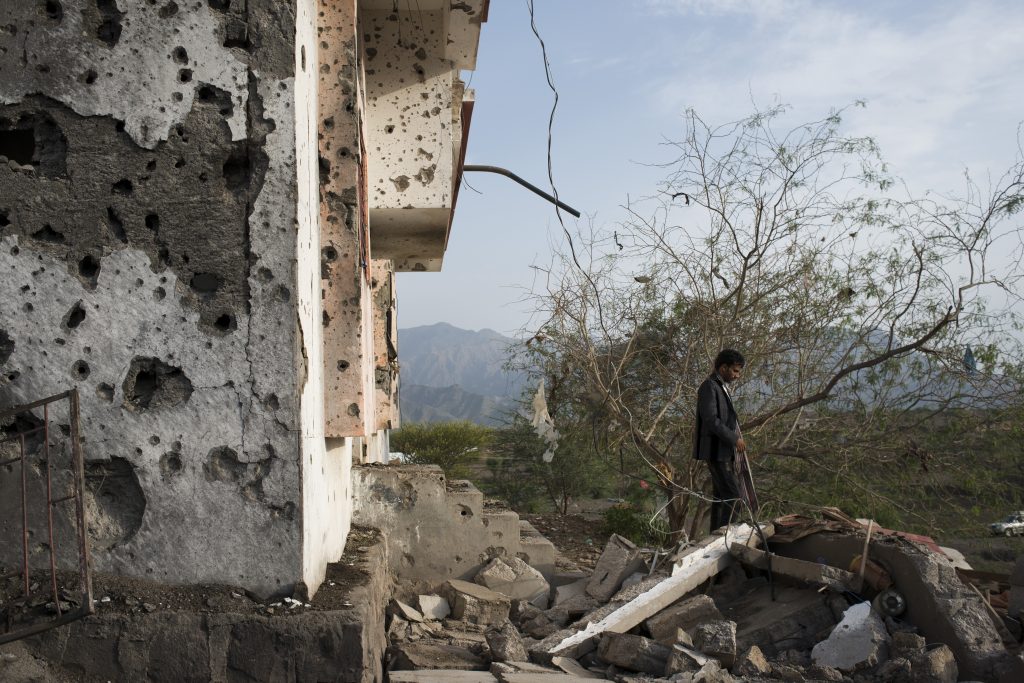 Even when transport is provided for free, they are afraid they will be harassed or mistreated. We had difficulty convincing many patients to let us transfer them to Ad-Dhale from Qataba for better care. Sometimes they refused.
Yemen is in the grip of its worst-ever cholera outbreak. What was the situation in Ad Dhale, and how did MSF teams respond?
I had been working in Ad Dhale for 6 months in April when we received two patients with cholera in Qataba. Within a week we had a full-blown outbreak on our hands. Until then, I had never even seen a case of cholera. And in Yemen I saw so many cases that I have become very familiar with the clinical features, diagnosis and management of cholera now. I had to ask the same set of questions to so many patients that, after a while, I could manage even without an interpreter. How many times did you pass stool today? How much ORS did you drink?
It was quite overwhelming in the beginning. It seemed like it would be impossible to manage. Treatment for cholera consists primarily of management of dehydration. Some patients need IV fluids, but most can be managed well with ORS. But as the outbreak coincided with Ramadan, many patients refused to take ORS. We had to take the help of imams; they made an announcement that it was okay for patients to break the fast. Then those patients started taking ORS.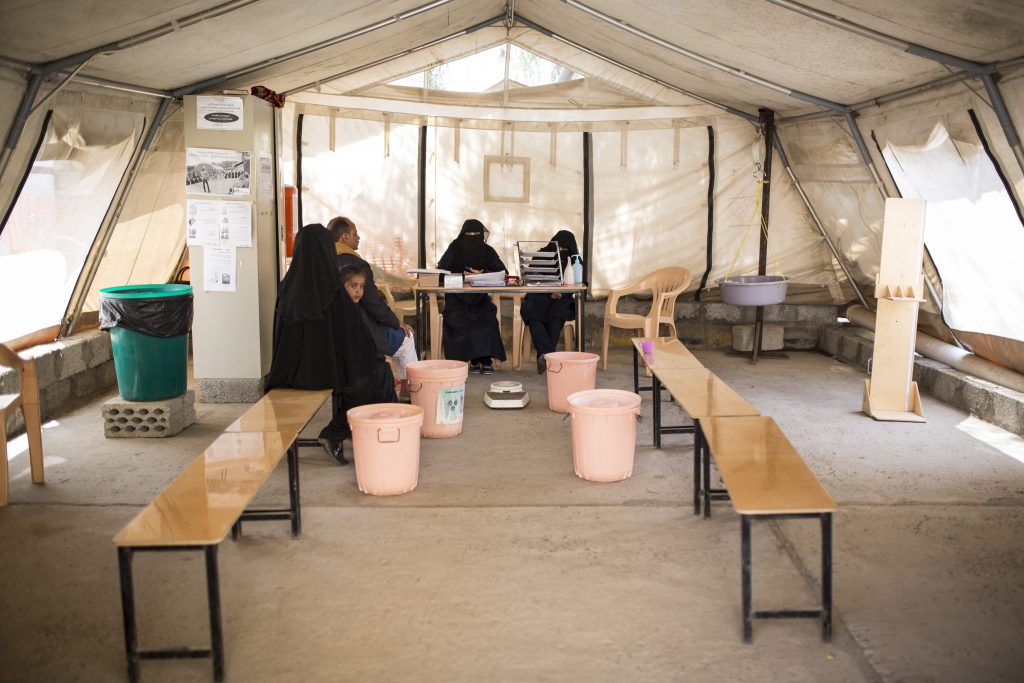 It was only towards the second half of August that the number of patients and severity of cases reduced remarkably. Our cholera treatment centres (CTCs) were functional until mid-September when we switched to Oral Rehydration Points (ORPs), where patients who don't need admission receive ORS.
Tell us about a patient you will remember.
There was a five-year-old child who was admitted to the malnutrition ward in Ad Dhale with, among other things, bleeding inside the eyes and in the gums. He kept crying constantly. We were not sure about the diagnosis, so we used telemedicine to get an expert opinion.
Telemedicine makes it possible for MSF staff in remote areas to connect with specialists around the world. Leishmaniasis and a rare genetic condition were suggested to be the most likely causes by telemedicine. The boy was put on treatment.
After about a month, we saw significant improvement. There was no bleeding in his eyes or gums anymore. He was calm, not crying, and had an improved appetite. The timing of his discharge was really good, because it was three days before Eid. He left smiling. It was one of the most memorable moments of my year in Yemen.
---

MSF in Yemen
MSF works in 13 hospitals and health centres in Yemen and provides support to more than 20 hospitals or health centres across 12 Yemeni governorates: Taiz, Aden, Al-Dhale', Saada, Amran, Hajjah, Ibb, Sana'a, Hodaida, Abyan, Shabwa and Lahj, with nearly 1,600 staff making it among MSF´s largest missions in the world in terms of personnel.
Also read:
Meet three Indians who fought the deadliest cholera outbreak