January 4, 2018
MSF is working closely with the Ministry of Health to raise awareness of HIV prevention strategies
A gateway between Africa and Europe, Algeria has been plagued by violence over the past half-century.
More than a million Algerians were killed in the fight for independence from France in 1962, and the country is emerging from a brutal internal conflict.
The Sahara desert covers more than four-fifths of the country. Algeria is Africa's biggest country, and is the world's tenth largest.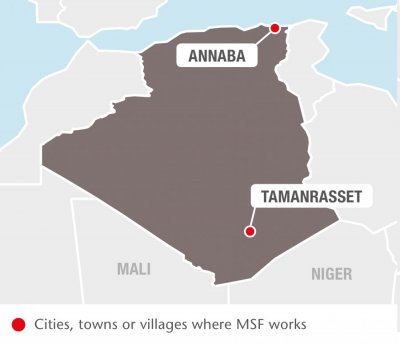 MSF's work in Algeria: 2016
MSF continued to focus on HIV care in Algeria throughout 2016.
In 2015, we opened a programme to increase the availability of HIV care for vulnerable groups of people, such as migrants, intravenous drug users and sex workers.
Since then, we have worked closely with two Algerian organisations in a number of centres run by the Ministry of Health and other partners, including one in the port city Annaba.
We contribute to raising awareness of HIV prevention strategies by conducting health promotion and outreach activities with groups at risk.
Teams also offer testing services in the community and provide reference centres with technical support to standardise treatment, monitoring and protocols.
In 2016, we donated laboratory equipment and supported the decentralisation of care.
Find out more in our International Activity Report