"Hundreds of thousands of refugees are living in an extremely precarious situation"
In response to the unfolding humanitarian crisis in Cox's Bazar, Bangladesh, we have hugely increased our operations in the country.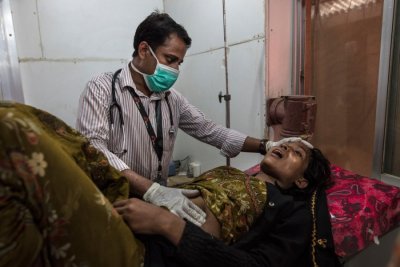 More than 688,000 Rohingya refugees have arrived in Bangladesh since 25 August, following the renewed violence in Rakhine State, Myanmar.
In the first four months, we have treated more than 200,000 patients in the Cox's Bazar area, effectively.
"We are concerned that if the response to this crisis does not increase to meet the huge demand for shelter, clean water, medical care and food, then the risk of disease outbreaks looms, and with that, a public health emergency," said MSF Emergency Coordinator, Robert Onus.
Those arriving in Bangladeshhave shared stories with Médecins Sans Frontières/Doctors Without Borders (MSF) about theirvillages being systematically raided and burnt by the Myanmar military.
Mob groups are targeting the Rohingya and women and children are being raped and killed.
It is one of the largest displacements of people in recent memory, in such a short period of time.
Recent surveys conducted by MSF in refugee settlements in Bangladesh estimate that at least 9,000 Rohingya died in Myanmar's Rakhine State between 25 August and 24 September 2017.
As 71.7 percent of the reported deaths were caused by violence, at least 6,700 Rohingya, in the most conservative estimations, are estimated to have been killed, including at least 730 children below the age of five.
more on rohingya refugee crisis >
Country profile
Bangladesh, formerly East Pakistan, was formed in 1971. It is one of the world's most densely populated countries.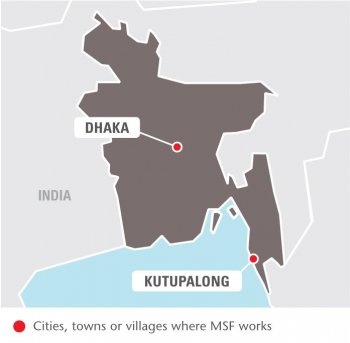 Poverty is widespread, but it has been recognised as having the potential to become one of the world's largest economies in the 21st Century.
">
A low-lying country on the Tropic of Cancer, with the Bay of Begal to the south, Bangladesh is often impacted by flooding and tropical cyclones.
Médecins Sans Frontières/Doctors Without Borders (MSF) first worked in Bangladesh in 1985.
Our work in the country has involved responding to people excluded from healthcare and people affected by severe malnutrition.
MSF's work in Bangladesh: 2016
In 2016, MSF continued to provide healthcare to vulnerable people in Bangladesh, including a large number of Rohingya refugees from Myanmar.
KUTUPALONG
Close to the Kutupalong makeshift camp in Cox's Bazar district, we run a clinic offering comprehensive basic and emergency healthcare, as well as inpatient and laboratory services to Rohingya refugees and the local community.
There was a sharp increase in patient figures in the last two months of the year, due to a huge influx of Rohingya fleeing Myanmar's northern Rakhine state.
The team treated 113 violence-related injuries in November and December, including 17 with gunshot wounds.
During the year, teams carried out 89,954 outpatient, 2,491 inpatient and 4,559 mental health consultations.
They also treated 103 victims of sexual violence in 2016, more than double the number in 2015. In addition, 15,194 antenatal consultations were conducted.
KAMRANGIRCHAR SLUM
In Kamrangirchar slum, in the capital Dhaka, we offer reproductive healthcare to adolescent girls, carrying out 4,578 antenatal consultations and assisting 457 deliveries in 2016.
The team also provided medical and psychological support to 535 victims of sexual violence and intimate partner violence.
In addition, 2,324 family planning sessions and 2,379 individual mental health consultations were conducted with people of all ages. We continue to run its occupational health programme for factory workers in Kamrangirchar, and this year carried out a total of 8,923 consultations.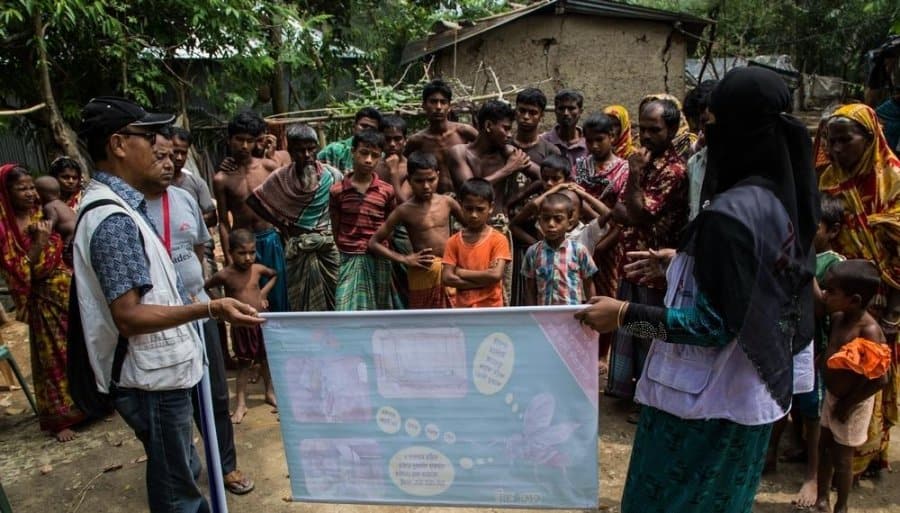 Find out more in our International Activity Report