The political crisis that sparked the violent conflict in 2013 has still not been resolved, leading to a disastrous health emergency
Since its independence from France in 1960, Central African Republic (CAR) has been subjected to numerous coups and a lack of stability.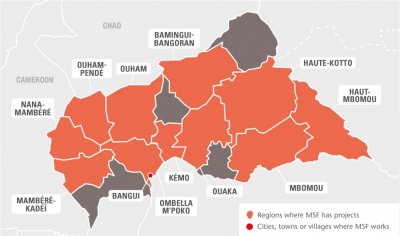 Despite its considerable mineral deposits and natural resources, it remains one of the top 10 poorest countries in the world.
Emergency response team
Years of unrest have displaced tens of thousands of Central Africans, with many crossing the border into Chad and is often affected by violence wrought in neighbouring countries like South Sudan.
On 4 December 2014, almost one year to the day after anti-Balaka rebels launched an attack on Bangui, the French Minister of Defence stated that the "job was done" and that the country was returning to "normal."
He then announced the partial withdrawal from CAR of Sangaris, the French peacekeeping force.
Daily terror and fear remain a reality for people in CAR. Insecurity has also impacted Médecins Sans Frontières/Doctors Without Borders (MSF) personnel and other aid workers. Over the past few months, they have been subjected to an increase in acts of violence of varying degrees.
We have been working in CAR since 1997. Since December 2013, we have doubled our medical assistance in CAR and are running additional projects for Central African refugees in neighbouring countries.
For the latest news from the country, follow @MSF_WestAfrica on Twitter.
MSF's work in CAR: 2016
Ongoing political unrest and violence have resulted in a protracted humanitarian crisis in CAR. Despite relatively peaceful democratic elections in early 2016, the situation remains extremely concerning.
Amid shifting frontlines, thousands of people were killed, wounded or displaced as armed groups fought to take control of territory. Two MSF workers paid the ultimate price and lost their lives while doing their jobs.
Humanitarian needs are immense: in late 2016, 2.3 million people, or about half of the population, were depending on humanitarian aid to survive.
According to the United Nations Office for the Coordination of Humanitarian Affairs (UNOCHA), one in five CAR citizens are still displaced inside or outside national borders.
In 2016, humanitarian agencies withdrew from CAR, due to a lack of funding, but MSF is maintaining its presence and teams are running 17 projects across the country.
Bangui
Sporadic fighting and violence in the capital resulted in dozens of casualties. We continued to focus on emergency services in the General Hospital and carried out 3,700 surgical interventions in 2016.
The team also conducted 32,300 consultations in the predominantly Muslim PK5 neighbourhood, treating children under the age of 15 at Mamadou Mbaiki health centre.
In M'poko camp for internally displaced people near the international airport, more than 106,000 consultations were carried out in our field hospital.
We scaled up our services for women and babies in Bangui. A team managed the 80-bed Castor maternity hospital, the largest in the country, and assisted around 600 births per month.
From April to December 2016, we provided inpatient care to 941 people with advanced AIDS in Bangui's Hôpital Communautaire. However, as the level of quality of care in the hospital did not comply with our standards, the project was temporarily closed in December. We are exploring other options to resume these activities in 2017.
IN THE PROVINCES
We continued to provide comprehensive inpatient and outpatient care to the local community and displaced people in Batangafo and Kabo (Ouham), Boguila, Bossangoa and Paoua (Ouham-Pendé), Carnot (Mambéré-Kadéȉ) and Ndele (Bamingui-Bangoran).
This included basic and specialist healthcare, emergency, maternity and children's services, community malaria programmes and diagnosis and treatment for HIV and tuberculosis (TB). Numerous health centres and health posts were also supported through these projects.
In Berbérati (Mambéré-Kadéȉ), the security situation has stabilised. we continued to support the regional hospital as well as four health centres, focusing on care for pregnant women and children under the age of 15.
More than 4,200 children were admitted to the hospital in 2016, and over 21,900 paediatric outpatient consultations were carried out in the health centres.
In Bambari, we provided primary and secondary healthcare to locals and around 50,000 displaced people living in the camps. Almost 35,000 consultations were carried out. From October, we also supported the paediatric units and operating theatres in the regional university hospital.
In Bria (Haute-Kotto), we provided healthcare, including HIV and TB treatment, to children under the age of 15. When intercommunal violence erupted in November, we treated around 140 wounded people in the hospital.
In Zémio (Haut-Mbomou), teams offered basic and specialist healthcare in the hospital, with a focus on HIV care. These services were handed over to the Ministry of health towards the end of the year. Maternity services should also be handed over by mid-2017.
In Bangassou (Mbomou), we support the 118-bed reference hospital, which is currently being expanded, as well as three health centres.
EMERGENCY RESPONSE TEAM
Our emergency response team Equipe d'Urgence RCA (Eureca) responded to several health and nutrition emergencies across the country, and vaccinated more than 12,800 children against measles.
The team also assisted 4,000 South Sudanese refugees in Bambouti.
VACCINATIONS FOR CHILDREN
Almost 95,000 children in Berbérati, Bangassou and Paoua received routine immunisations in 2016 during multi-antigen vaccination campaigns.
These catch-up campaigns will continue in other areas in 2017.
Find out more in our International Activity Report