The conflict in neighbouring Nigeria has spilled over into Chad, increasing the need for humanitarian assistance
Chad, a largely semi-desert country, is Africa's fifth largest and home to more than 11.5 million people.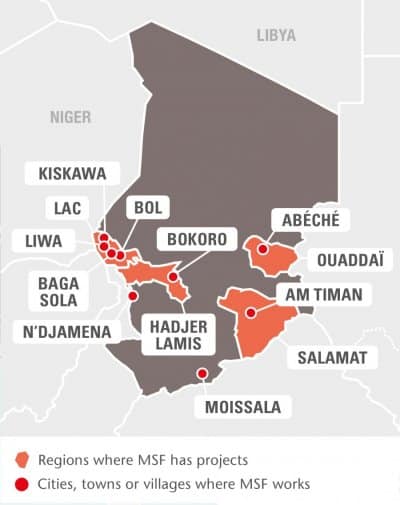 The country became an oil-producing nation in 2003, and crude oil has become the country's primary source of export earnings.
Chad hosts over 390,000 refugees and as many as 124,000 internally displaced people in the Lake Region alone.
Médecins Sans Frontières/Doctors Without Borders (MSF) first worked in Chad in 1981.
Our work in the country focuses on responding to armed conflict, treating endemic/epidemic disease and providing healthcare for people otherwise excluded.
MSF's work in Chad: 2016
In 2016, thousands of people in the Lake Chad region were forced to flee their homes as a result of violent clashes between the armed group Boko Haram and Chadian military forces. 
Our teams run mobile clinics from their bases in Baga Sola, Bol, Liwa and Kiskawa, providing basic healthcare and mental health support to displaced people and the local population.
Most of the medical conditions they treat are linked to the precarious living conditions and poor sanitation. We also support the health centre in Tchoukoutalia and offer mental healthcare to Nigerian refugees in Dar es Salam camp.
Protecting the lives of women and children
In Bol regional hospital, our teams collaborate with Ministry of Health staff on sexual and reproductive health, working in the maternity and paediatric wards as well as in the therapeutic feeding centre.
An important focus of the activities is on obstetrics, gynaecology and neonatal care. In 2016, teams assisted 409 deliveries, 81 of which were caesarean sections, and provided nutritional support and paediatric care to over 1,000 children.
In Moissala, Mandoul region, we run a prevention, detection and treatment programme for paediatric malaria that also includes pregnant women
Around 2,300 children were admitted to Moissala hospital's malaria unit, while 43,000 children and 7,500 women were treated for malaria in MSF-supported health facilities in the district.
Four rounds of seasonal malaria chemoprevention were administered in 2016, reaching more than 110,000 children each time.
In Am Timan, Salamat region, we support the hospital's paediatric and maternity wards as well as the laboratory.
CHAD'S EMERGENCY RESPONSE UNIT (CERU) TACKLES HEPATITIS E
In September, the CERU responded to an outbreak of hepatitis E after several cases of jaundice were identified in Am Timan.
About 600 national and international staff were recruited to treat patients, provide clean water, distribute hygiene kits and run awareness and active case-finding activities. Many community health workers and chlorinators assisted them.
TREATING MALNUTRITION
This year, 2,176 children were treated for severe malnutrition. For the first time, we started a malnutrition prevention project targeting nearly 30,000 children under the age of two in and around Bokoro.
In the village of Gama, and in 14 other rural locations, mothers were provided with soap, mosquito nets and food supplements to help protect their families.
PROJECT CLOSURES AND HANDOVERS
Despite recent progress at national policy level, there is still an urgent need for greater efforts, nationally and internationally, to prevent and respond to malnutrition.
The recurrent nutrition crisis in Chad requires a sustained emergency response and longer-term structural changes.
In 2016, we transferred all our activities in Bokoro, Hadjer-Lamis region, to the Ministry of Public Health.
These included 15 clinics for malnourished children between the ages of six months and five years and an inpatient therapeutic feeding centre with an intensive care unit in Bokoro town.
Find out more in our International Activity Report