Egypt is a key transit and destination country for African and Middle Eastern refugees and migrants
One of the world's first nation states, Egypt has one of the longest and most diverse histories of any country and is known for its ancient civilisations.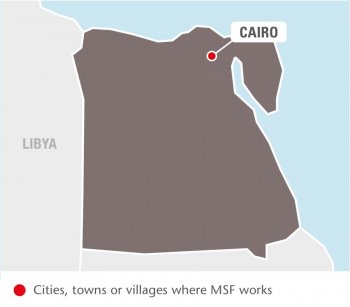 With a population of over 82 million it is bordered by the Gaza Strip and Israel, the Gulf of Aqaba, the Red Sea, Sudan, and Libya.
The country's location means it serves as a link between North Africa and the Middle East. Rule in the country has been unstable since the anti-government demonstrations in January 2011 that ended President Hosni Mubarak's rule.
Médecins Sans Frontières/Doctors Without Borders (MSF) first worked in Egypt in 2010.
Our work in the country focuses on providing healthcare for people otherwise excluded and for diseases like hepatitis C.
MSF's work in Egypt: 2016
The number of migrants arriving in Egypt has risen sharply in recent years due to conflict and instabilities in Syria, Iraq, Sudan, South Sudan, Eritrea, Somalia, Libya and several other countries.
They mainly live in Greater Cairo, Alexandria and Damietta. By the end of 2016, there were 193,375 registered refugees and asylum seekers living in Egypt.
Migrants are struggling with poor services integration, limited employment opportunities and difficulties in accessing healthcare due to diminishing funding.
Many of them are waiting for their asylum requests to be processed. Many of them were subjected to violence and exploitation in their home countries or during their journeys to Egypt and have psychological problems and physical disabilities.
We have developed individual rehabilitative treatment plans for these patients, consisting of medical and mental health assistance, physiotherapy and social support.
In 2016, we treated a total of 1,465 new patients, in addition to the existing cohort. The medical teams also assisted other vulnerable individuals by conducting 2,655 medical consultations and distributing over 2,300 hygiene kits.
We continued discussions with the Egyptian Ministry of Health and Population and national medical institutions regarding establishing partnership projects in key public health areas, and offered to contribute technical medical expertise to existing initiatives.
Find out more in our International Activity Report