Along with Sierra Leone and Liberia, Guinea was pushed to the forefront of the world stage in 2014 as the devastating Ebola outbreak spiralled out of control
Despite an abundance of mineral wealth, Guinea's people are among the poorest in West Africa.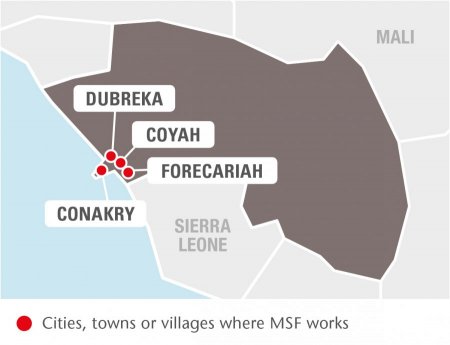 The country has rich deposits of bauxite, diamonds and gold, but due to political instability and a lack of infrastructure, little of this wealth reaches Guinea's population.
Ruled by strong-arm leaders for much of the time since its independence from France in 1958, Guinea has been seen as a bulwark against instability in neighbouring Liberia, Sierra Leone and Ivory Coast. However it has also been implicated in the conflicts that have ravaged the region.
Along with Sierra Leone and Liberia, Guinea was pushed to the forefront of the world stage in 2014 as the devastating Ebola outbreak spiralled out of control – originating in Guinea itself.
Médecins Sans Frontières/Doctors Without Borders (MSF) first began working in the country in 1984.
MSF's work in Guinea: 2016
After two years of heavy involvement tackling the deadly Ebola epidemic in Guinea, we closed our last Ebola-related project in 2016.
From January to September, MSF worked in Conakry, Coyah, Dubreka and Forécariah, treating 359 survivors and 282 health professionals for medical complications (primarily eye and neurological problems). These health professionals had been involved in the fight against Ebola but no specialist support was available for them.
We also treated 354 people indirectly affected by the epidemic such as family members of victims. These activities were both medical and psychological, as many people were suffering from mental health problems such as depression and post-traumatic stress disorder. In addition, over 18,000 people benefited from information sessions designed to reduce the stigma still affecting Ebola survivors.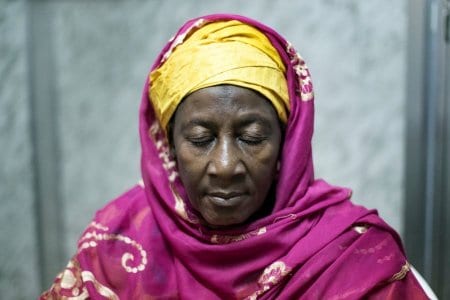 "When I returned home after leaving the Ebola treatment centre, only my sons and daughters approached me; all the other people were too scared to.
"Now the situation is much better but I'm still affected by cataracts and because all eye surgery on Ebola survivors is forbidden, I cannot be operated upon."
By September, as survivors were no longer experiencing medical complications, there was no further need for specialised treatment.
Meanwhile, the care of patients in need of psychological support was handed over to the Ministry of Health and other organisations such as Postebogui.
The closure of the survivor project marks the end of our direct involvement in medical activities related to Ebola, although we are constructing a treatment centre for infectious diseases with outbreak risks (including Ebola) in Guéckédou as part of emergency preparations.
Caring for people with advanced HIV
People living with HIV in Guinea have difficulty accessing antiretrovirals (ARVs), as supplies are frequently disrupted. While Guinea has a relatively low prevalence of HIV, at around 1.7 percent, the country has one of the worst treatment coverage rates in the world, with only one in four people living with HIV receiving ARVs.
In November, in collaboration with the Ministry of Health, we opened a 31-bed centre in Donka hospital to treat people suffering from advanced HIV. The Donka centre offers free, high-quality care to HIV patients with diseases such as Kaposi's sarcoma and cryptococcal meningitis that result from low immunity.
By the end of December, the centre had treated 49 people with advanced HIV, of whom 44 percent had a CD4 count below 100, an indication that the immune system is severely compromised and vulnerable to deadly opportunistic infections.
Regular HIV activities
At the end of 2016, we were providing medical care for 9,856 people living with HIV, including drugs for opportunistic infections, laboratory tests and psychosocial support. Of these, 4,968 people receive six-month supplies of ARVs through a refill strategy called R6M, which was first piloted during the Ebola outbreak to ensure that stable patients remained on treatment.
We have gradually handed over the provision of ARVs to a large patient cohort to the national health ministry, and by the end of 2016, we provided first-line ARVs to 2,573 patients in Conakry.
Find out more in our International Activity Report