Situated on the equator on Africa's east coast, Kenya has been described as "the cradle of humanity".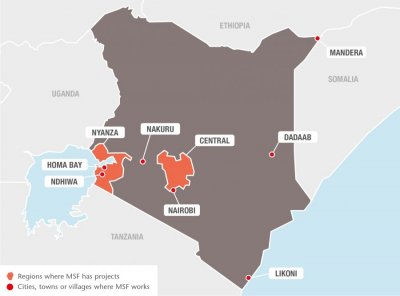 It has a population of around 45 million people.
Kenya was shaken by inter-ethnic violence which followed disputed elections in 2007. However, the next elections in 2013, passed off without violence and resulted in victory for Uhuru Kenyatta, the son of independence leader Jomo Kenyatta.
Kenya's military entered Somalia in October 2011 to curb the threat of the Islamist militant Al-Shabab movement, which it accused of the kidnap and killing of tourists and aid workers.
Since 2013 Al-Shabab has launched an increasingly deadly series of reprisal attacks in Kenya itself.
Médecins Sans Frontières/Doctors Without Borders (MSF) first worked in Kenya in 1987. Our work in the country has provided responses to endemic/epidemic disease and healthcare exclusion.
MSF's work in Kenya: 2016
In 2016, we continued to offer care to refugees and slum dwellers and to respond to public health challenges such as HIV and access to hospital services.
The existence of the Dadaab refugee camps in northeast Kenya, which have sheltered refugees for over 25 years, came under threat in May when the Kenyan government announced that they would close it by the end of the year, citing economic, security and environmental concerns.
The closure would mean that the camps' inhabitants would have to return to war-torn Somalia.
MSF publicly opposed the decision, and in August carried out a survey in Dagahaley, one of the five camps that make up the complex. The survey showed that 86 percent of people were unwilling to return to Somalia.
Dadaab refugee camps
Throughout the year, MSF continued its work in the 100-bed hospital in Dagahaley, and at the two health posts. Our teams
Carried out 162,653 outpatient consultations
Admitted 9,137 patients to the hospital
Admitted 917 children with severe malnutrition
Delivered more than 3,000 babies in the hospital's maternity ward
Mombasa
In January, MSF launched a sexual and reproductive health project in Mrima health facility, in Mombasa.
In partnership with the Mombasa County Department of Health, MSF aims to reduce maternal and newborn mortality in the area. In 2016, 1,473 births were assisted and more than 2,000 women attended antenatal consultations.
Nairobi
More than 200,000 people living in Kibera, Nairobi's largest slum, have access to comprehensive medical care at a clinic run by MSF.
This year, 176,415 people received medical treatment from us.
After more than 20 years in Kibera, MSF is in the process of handing the clinic over to the Kenyan government and another NGO.
Nairobi Eastlands
Since 2008, our clinic in Nairobi Eastlands has been providing psychological, medical, legal and social assistance to victims of sexual and gender-based violence.
From the end of 2015, we also worked with authorities to develop an integrated model of care in two primary healthcare facilities in Eastlands.
More than 2,700 new patients were treated in 2016, half of whom were minors.
HIV care in Homa Bay
HIV in the Nyanza region remains a major health problem. In Ndhiwa, Homa Bay for example, one out of four adults are living with the virus while two percent of the population is infected every year.
The virus also continues to kill. A study carried out by Epicentre and MSF between December 2014 and March 2015 in the adult ward of Homa Bay referral hospital found that AIDS accounted for more than a third of admissions and 55 percent of deaths.
Worryingly, 50 per cent of AIDS cases were patients failing their treatment and showing new opportunistic infections, despite having started antiretroviral (ARV) treatment.
Find out more in our International Activity Report