Since the end of the Muammar Gaddafi regime in 2011, Libya has been divided by armed conflict and the violence has escalated in recent years
On the North African shore of the Mediterranean Sea, Libya – a mostly desert and oil-rich country – has an ancient history stretching back to the time of the Romans.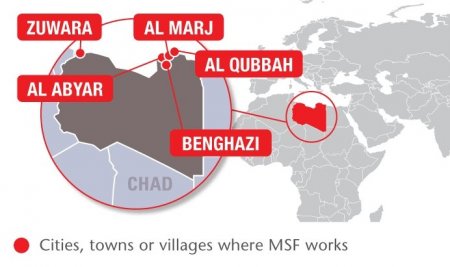 More recently, it has been renowned for the capricious 42-year rule of Colonel Muammar Gadaffi and is now a springboard for migrants and refugees heading for Europe.
Following years of conflict, a new UN-backed "unity" government is installed in Tripoli. It faces opposition from two rival governments and a host of militias.
The country is crisscrossed by many dividing lines, along which the so-called 'Islamic State' has risen in power.
Médecins Sans Frontières/Doctors Without Borders (MSF) first began working in Libya in 2011, when the country was plunged into chaos after fighting between rival factions caused people to flee their homes.
MSF's work in Libya: 2017
MSF continues to provide medical care to refugees and migrants detained in Tripoli.
MSF is in Libya's capital providing medical care to refugees and migrants in detention centres. During the first quarter of 2017, we carried out over 4,000 medical consultations in seven detention centres across Tripoli.
These centres are nominally under the control of the Directorate for Combating Illegal Migration (DCIM).
Each month, our mobile clinic teams treated around 1,300 people for conditions such as: skin disease, diarrhoeal disease, acute malnutrition, respiratory, and urinary tract infections.
These preventable diseases are a direct result of living in detention centres. The conditions inside the do not meet any national, regional or international standards.
Adult malnutrition
The food provided is often not sufficient in quantity and quality.
In the first three months of 2017, there were 42 acutely malnourished patients in our therapeutic feeding programme.
During this period, we observed interruptions in food supply in two centres – leaving detainees days without any food.
OVERCROWDING
It is unclear exactly how the detention system functions. With no rule of law in Libya, many detention centres are dangerously overcrowded.
People are held arbitrarily, appearing from one day to the next after being intercepted at sea, arrested on the streets, or rounded up in night raids.
Confining a large number of people in such small spaces causes musculoskeletal pain, and is a hotbed for the easy transmission of diseases such as scabies and chickenpox.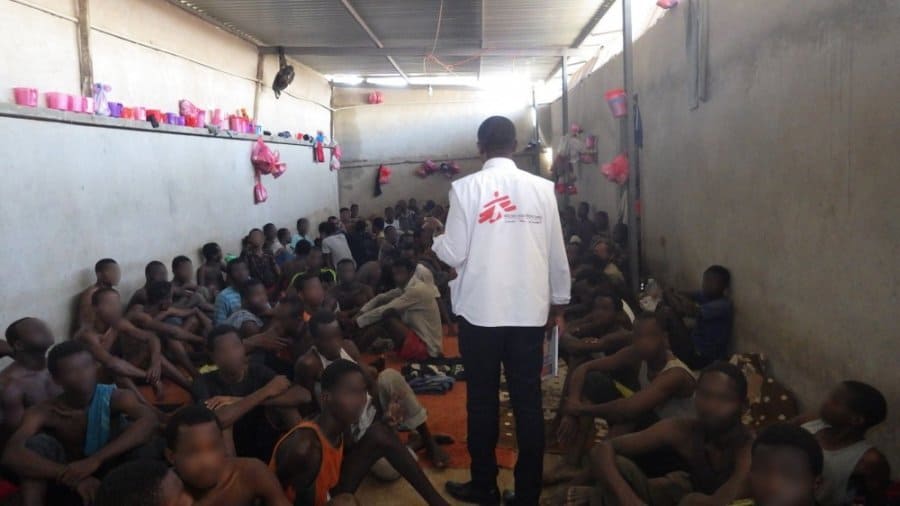 Mental health support
Many detainees often have no idea why, or for how long, they will be detained – having a direct impact on their mental health.
A large number suffer from hypervigilance, while many others have suicidal thoughts, difficulty sleeping, post-traumatic stress disorder (PSTD), panic attacks, depression and anxiety.
MSF runs psychosocial activities in detention centres and carries out individual counselling sessions.
VIOLENCE-RELATED INJURIES
MSF is treating violence-related injuries including visible scars, bruising, and lacerations.
LIFESAVING REFERRALS
In the event of a medical emergency, MSF will attempt to refer people to hospitals in Tripoli.
During the first quarter of the year, we referred more than 53 people who urgently needed specialised medical care.
Each referral is very complicated and time-consuming, as hospitals do not want to admit detainees.
Access to drinking water and toilets
MSF installed water tanks, pipelines and tanks in several detention centres. Daily water availability now meets or surpasses the minimum quantity for drinking and washing.
We supplied personal hygiene items to all detainees, plus soap and cleaning materials to keep the premises clean.
However, we have observed that items are sometimes confiscated and people do not always have 24-hour access to the bathroom.
LIMITATIONS TO MEDICAL WORK
This all takes place within a highly militarised environment: our doctors are not always given full freedom to decide which patients get help, and privacy is not guaranteed.
It is a difficult choice for us to work where people are kept in conditions without human dignity.
However, our hope is that, by being present and providing medical care, we can improve detention conditions and alleviate peoples' suffering to some extent.
MSF remains opposed to the arbitrary detention of migrants, refugees and asylum-seekers in Libya.