Due to its location in the Indian Ocean, Madagascar is prone to natural disasters
Madagascar, home to nearly 25 million people, is the world's fourth largest island and home to some of the most unique wildlife on earth.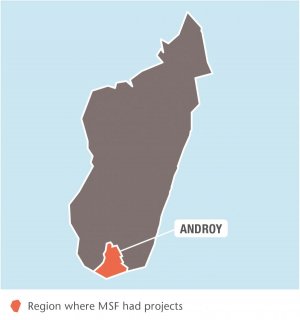 But because of its location in the Indian Ocean – south east of Mozambique – Madagascar is often prone to cyclones and flooding.
Médecins Sans Frontières/Doctors Without Borders (MSF) has been working in Madagascar since 1987, responding to natural disasters and providing healthcare for people who would otherwise be out of reach.
Since being plunged into economic uncertainty in 2009, we have been working in the country to fill in healthcare gaps.
MSF ended operations in Madagascar in 2016, but returned in October 2017 to respond to the outbreak of plague in Tamatave (also known as Toamasina).
Plague outbreak
On 18 October, we began working with local authorities to tackle an outbreak of pneumonic plague in the port city of Tamatave on the east coast of Madagascar.
MSF's international medical personnel are supporting staff from the Malagasy Ministry of Health to provide treatment to the patients currently being cared for in the plague triage and treatment centre.
The specialised centre was built earlier this week outside the city's hospital by international partners, including MSF.
"The plague is understandably a scary disease, but quick, hands-on action can drastically lower the number of fatalities and bring the outbreak to an end," says Luca Fontana, MSF water and sanitation specialist.
MSF's work in Madagascar: 2016
In March 2016, MSF ended its activities in Madagascar, where teams had returned in 2015 to respond to a malnutrition crisis.
Madagascar's malnutrition crisis was caused by the bad rains and harvest of 2015.
We provided treatment for malnutrition in Ambovombe district, Androy region and, by March 2016, the intensive therapeutic feeding centre had admitted 273 children and treated 1,165 as outpatients.
'Nutrition surveillance caravans' were operated to monitor the nutritional status of the scattered population in several parts of this largely rural region.
In January and February, 10,368 children were screened for malnutrition and more than 8,000 medical consultations were provided.
During those two months 1,559 children were vaccinated against measles and other common deadly diseases, such as pneumonia, diphtheria and tetanus.
Find out more in our International Activity Report