Sierra Leone was declared Ebola-free in 2016 – and is now struggling to rebuild its shattered health system.
In early 2014, the West African nation of Sierra Leone seemed as though it was finally putting its decade long civil war behind it.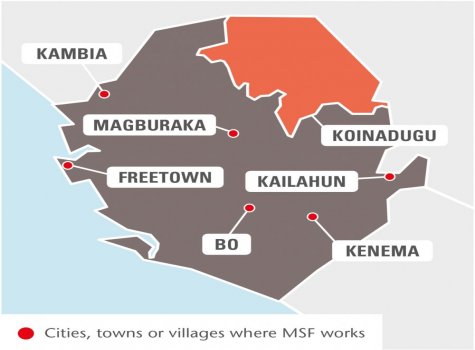 Tens of thousands of people died between 1992-2002 and the recovery was horribly protracted.
Then, in late May 2014, Sierra Leone was faced with another disaster: the Ebola outbreakgripping its neighbours, Guinea and Liberia, had crossed the border.
In the years prior to the outbreak, the country of more than 5.5 million had experienced substantial economic growth.
On 17 March 2016, Sierra Leone was finally declared Ebola-free.
However, the epidemic left a disastrous effect on the country's economy, education and, perhaps worst of all, healthcare system – which it is now struggling to rebuild.
Médecins Sans Frontières/Doctors Without Borders (MSF) first worked in Sierra Leone in 1986.
MSF's work in Sierra Leone: 2016
Sierra Leone was finally declared Ebola-free on 17 March 2016 and the country is now struggling to rebuild its shattered health system.
Access to medical care was already limited before the epidemic. It is estimated that around 10 percent of Sierra Leone's health professionals were among the 3,950 people killed by Ebola.
Around 8,695 people were infected with the virus, and some survivors struggled with complications for months afterwards. We opened a survivors' clinic in July 2015 to help people with these issues. The project was handed over to the Ministry of Health in September 2016.
At the survivors' clinic, we:
Provided medical treatment and mental healthcare to over 400 survivors and their families.
Organised over 450 mental health sessions.
Ran awareness-raising activities promoting safe sex, hand washing and malaria prevention.
Deployed health promoters across local communities to educate people and reduce stigma surrounding survivors.
In order to retain sufficient emergency response capacity in the event of future disease outbreaks, the Sierra Leone Emergency Response Unit was established.
The unit supported the Ministry of Health with:
Infectious disease reporting in three districts.
Emergency response training in three distrcits.
Vaccination campaigns (including one for Ebola).
SUPPORTING MATERNAL AND CHILD HEALTH
Before Ebola, Sierra Leone had some of the worst health indicators in the world – especially for maternal and child mortality.
Our maternal and child health work includes:
Supporting Magburaka district hospital – paediatric ward, maternity services, neonatal services, and blood transfusion laboratory.
Supporting Magburaka mother and child health post – staff and supplies.
We also provided emergency obstetric care in a community health centre (Yoni Chiefdom, Hinistas).
Here, we:
Conducted 21,180 outpatient consultations.
Conducted 6,245 antenatal consultations.
Admitted 2,996 children to the paediatric ward.
Assisted in 1,457 deliveries.
In April, we started a project in Koinadugu to reduce meternal, neonatal and child mortality in the district. We rehabilitated Kabala hospital, extending the capactiy of the paediatric ward from 15 to 45 beds, and creating a three-bed neonatal ward.
We also:
Admitted 1,660 children under 12 for treatment (between April and December) – 148 of them for severe acute malnutrition.
Provided care for 1,185 pregnant women.
Assisted in 783 deliveries.
Conducted 111 caesarean sections.
Registered 1,240 people for family planning.
Our project also provides healthcare to Ebola survivors – 48 patients are currently being followed up.
Our team screened 23,197 people for the disease (none tested positive). Screening is also available for malaria and HIV.
Our teams in Koinadugu monitor the nutrition situation and respond to emergencies and disease outbreaks. In May, 65,159 children were vaccinated against mealses.
Find out more in our International Activity Report