The world's youngest country has been plagued by violence since its founding
South Sudan became the world's newest country after gaining independence from Sudan in July 2011.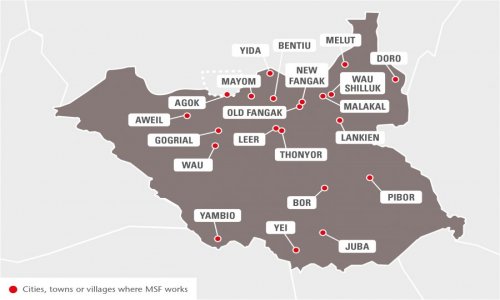 The 2005 peace deal that led to South Sudan's new beginning ended Africa's longest running civil war.
But, in December 2013, the landlocked country in eastern central Africa – home to more than 12 million people – was plunged back into chaos. A civil war erupted amid a power struggle between the president and his deputy.
Médecins Sans Frontières/Doctors Without Borders has been working in the area that now constitutes South Sudan for more than 30 years, responding to conflicts, neglected diseases and filling healthcare gaps wherever needed.
For the latest news from the country, make sure to follow @MSF_SouthSudan on Twitter
MSF's work in South Sudan: 2016
More than three years of ongoing conflict – which has included extreme violence against civilians – has forced millions of people across South Sudan from their homes.
Hundreds of thousands have been unable to access basic services such as food, water, primary and secondary healthcare, for months at a time and live in fear for their lives.
In 2016, MSF continued to respond to the urgent medical needs of people affected by violence and maintained its essential healthcare programmes across South Sudan – despite the growing challenges we face to reach those who need us the most.
As insecurity and violence spread across the country, providing humanitarian assistance has become increasingly complex – and, in places, more dangerous to provide.
Juba
After fighting broke out in Juba (South Sudan's capital) in July, we set up a surgical facility and ran mobile clinics across the city.
In the first month, one team treated 9,242 people for violence-related injuries and health problems caused by deteriorating living conditions.
We also helped the Ministry of Health set up and run a cholera treatment centre.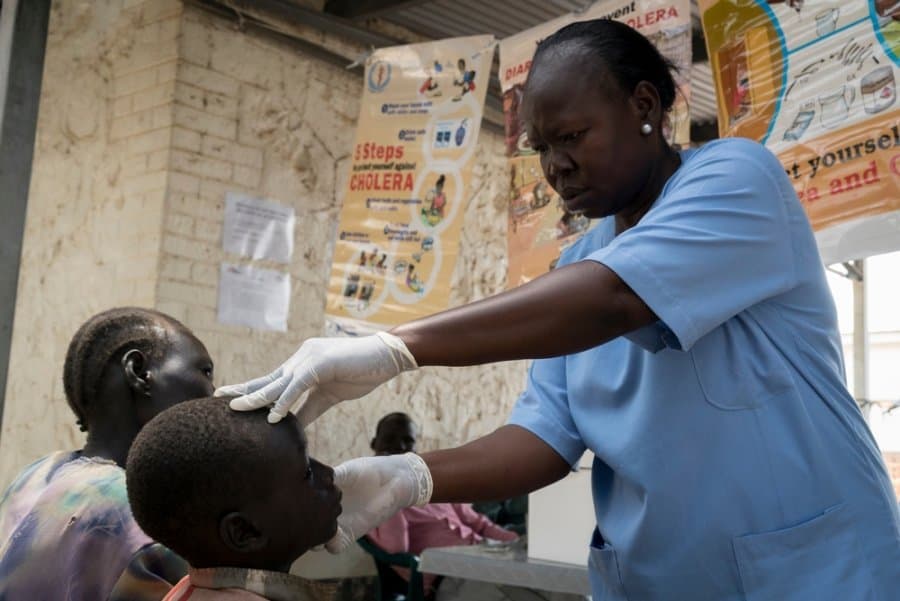 Great Upper Nile Region
PIBOR
Our clinic in Pibor provides inpatient and outpatient care, including emergency services.
Looting in February temporarily halted activities, but the clinic was fully operational once more by April. Towards the end of the year, we started offering surgery.
DORO
Our staff continue to offer medical care to the 50,000 South Sudanese refugees in Doro camp, as well as the local community in Maban county.
During a spike in malaria, we deployed mobile clinics and tested 9,970 people for the disease.
LANKIEN
Our hospital in Lankien is the only functioning medical facility in the area. Here, the main health concern is malaria.
In 2016, we:
Admitted 1,068 patients to the therapeutic feeding programme.
Provided treatment to 1,530 patients for kala azar (visceral leishmaniasis – a potentially fatal disease spread by sandflies).
Carried out a total of 116,944 outpatient consultations at Lankien hospital and Yuai health centre.
Bor
We continued to train staff and rehabilitate buildings at Bor state hospital.
From April, the team supported surgery and worked to improve the pharmacy, sterilisation and waste management.
FANGAK
In the war-torn Fangak area, we refocused our presence to provide access to healthcare. We progressively handed over our outpatient activities in Old Fangak and started activities in New Fangak – where only a few other humanitarian organisations are present.
In Old Fangak, we supported a 40-bed hospital. Here, we carried out 66,000 outpatient consultations and admitted 1,800 patients.
BENTIU PROTECTION OF CIVILIANS (POC) SITE AND TOWN
Insecurity led many more civilians to seek refuge at the PoC site in Bentiu. We remain concerned about the consequences of the sub-standard conditions, and their effect on the health of 120,000 people living there.
We run the only hospital on the site – a 160-bed facility with an emergency room, operating theatre and maternity unit.
We also:
Run treatment for sexual and gender-based violence, HIV, tuberculosis (TB), cholera, malaria and kala azar.
Run health promotion, monitoring and outreach activities across the site and in Bentiu town.
Conducted 40,380 primary healthcare consultations.
Admitted 4,325 patients.
International Activity Report