Swaziland has one of the highest HIV rates in the world
The landlocked southern African kingdom of Swaziland is one of the world's last remaining absolute monarchies.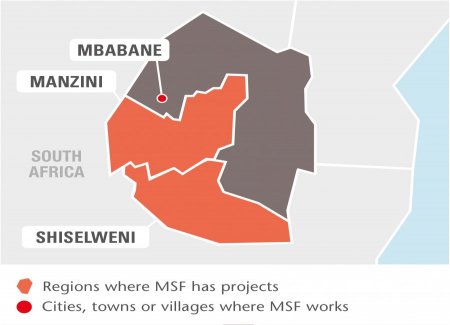 King Mswati III – on the throne since 1986 – rules by decree over his 1.3 million subjects.
Swaziland is struggling to cope with the dual epidemic of tuberculosis(TB) and HIV.
It has the world's highest incidence of TB, and the number of people with drug-resistant forms of the disease (DR-TB) is increasing. Furthermore, around 80 per cent are co-infected with HIV.
Médecins Sans Frontières/Doctors Without Borders has been working in Swaziland since 2007. Through decentralised care and innovative treatments, we are helping people with TB and HIV live longer, healthier lives.
MSF's work in Swaziland: 2016
This year, MSF focused on reducing HIV transmission and improving access to decentralised care for people with HIV, tuberculosis (TB) and drug-resistant TB (DR-TB) in Swaziland.
Swaziland has one of the world's highest rates of HIV, with nearly one in three adults living with the disease.
Estimates suggest that HIV incidence rates have fallen in recent years – as significant progress has been made in improving the number of people receiving antiretroviral (ARV) treatment.
In addition, incidences of drug-sensitive TB have more than halved between 2010 and 2016, as numbers of people with drug-resistant forms of TB have fallen by 20 per cent between 2015 and 2016.
However, around 80 percent of people with TB in Swaziland are HIV positive.
'Test and Start' strategy
In 2016, we continued to help HIV patients through the 'test and start' strategy – which involves immediately starting ARV treatment after a positive HIV diagnosis (and test).
Our team has been piloting this in our Nhlangano project, where ARVs were offered to over 1,700 people.
Twelve months after treatment:
82 percent of people on treatment had successfully suppressed the virus.
The Ministry of Health adopted 'test and start' as the national standard of HIV care in October 2016.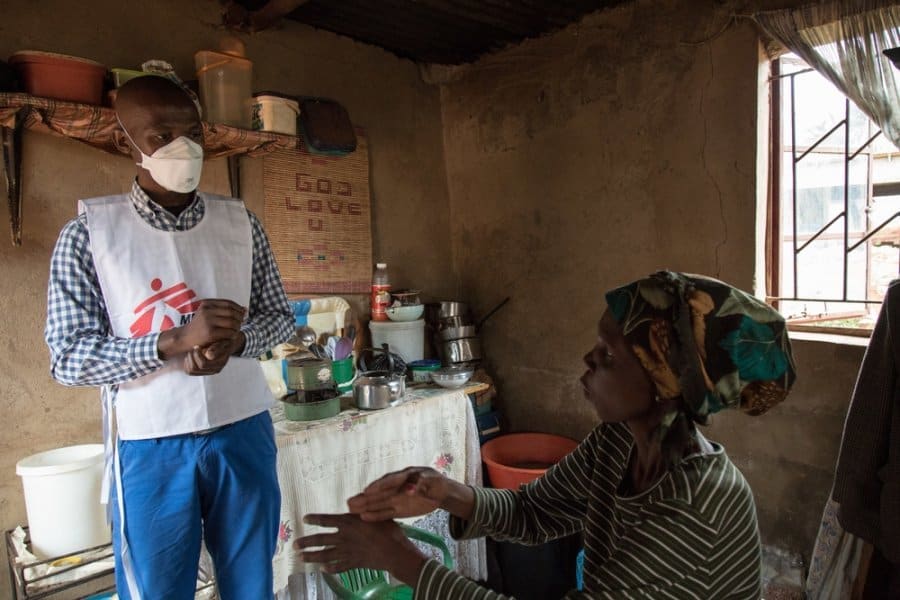 Promising new tb drugs
We have started using two promising new TB drugs – bedaquiline and delaminid (in combination with repurposed medicines) – to treat extensively drug-resistant TB (XDR-TB) patients.
We also offered the drugs to patients on the current regimen. This involves painful daily injections and up to 25 toxic tablets a day, which can result in severe side effects – including liver damage, deafness and psychosis.
During this programme:
81 XDR-TB and MDR-TB patients started treatment with the new drugs.
Almost all of them achieved culture conversion after six months – meaning TB bacteria could no longer be detected in their sputum (and on their way to being cured).
Most patients receive treatment at the national DR-TB referral hospital in Moneni, where we are supporting the Ministry of Health to strengthen outpatient care.
In 2016, we handed over first-line HIV treatment and in-facility HIV testing (in 16 out of 22 primary health clinics in Shiselweni) to AIDSFREE/PEPAR.
We are increasingly focusing on providing specialised HIV care – including second and third-line ARV treatment, cervical cancer screening, and routine point-of-care testing for opportunistic infections.
In 2016, we:
Administered 31,784 viral load tests.
Referred 407 patients for second-line HIV care.
Enrolled 1,407 patients in community ARV models of care.
Screened 647 women for cervical cancer – 19 percent of whom tested positive.
Manzini
In Manzini – since 2014 – we have been implementing the shorter DR-TB treatment (nine to 12 months, instead of two years). It has seen a success rate of 75 percent.
This regimen has since been recommended by the World Health Organization – and was adopted by the Swaziland Ministry of Health as the new national standard of care for MDR-TB treatment (with MSF providing support).
MATSAPHA
We continued to offer comprehensive healthcare with integrated HIV and TB services in Matsapha.
Our team is also exploring a new model of care for non-communicable diseases (NCDs) – including for people infected with HIV and TB.
The majority of the 731 patients treated for NCDs had either hypertension or diabetes.
Find out more in our International Activity Report