Uganda hosts the largest number of refugees in Africa
Uganda was notorious for its human rights abuses in the days of​ Idi Amin and Milton Obote's rule in the 1970s and 1980s.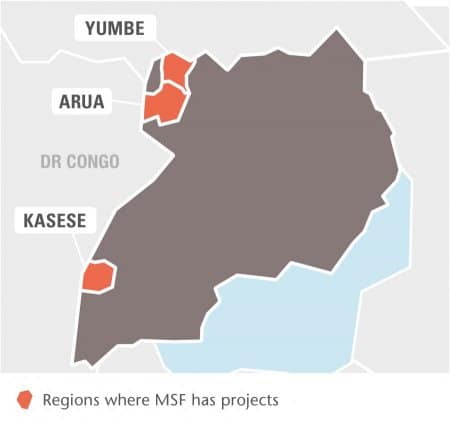 But today, the landlocked East African country of roughly 37 million people has managed to emerge from a disastrous civil war and economic catastrophe to become relatively peaceful, prosperous and stable.
The country has won praise for its vigorous campaign against HIV/AIDS.
This has helped to reduce the prevalence of the virus – which reached 30 percent of the population in the 1990s – to single-digit figures.
Médecins Sans Frontières/Doctors Without Borders (MSF) first worked in the country in 1986.
MSF's work in Uganda: 2016
In 2016, Uganda's refugee population swelled and HIV remained a major public health issue, despite significant improvements.
Although the number of new cases per year has been declining (from 160,000 in 2010 to 95,000 in 2014), seven percent of the population (about 1.5 million people) is HIV positive.
Adolescents are particularly vulnerable: they are exposed to early and/or unwanted pregnancies, sexual violence and unsafe abortions.
HIV/AIDS is the number one killer disease for adolescents in Africa, and Uganda is no exception.
ARUA
We have been offering point-of-care viral load testing in Arua regional hospital since 2013. Point-of-care testing facilitates rapid detection and early treatment, leading to an improvement in the patients' outcomes.
Between September 2013 and September 2016, 20,845 viral load tests were performed. Sixty patients suspected of failing on second-line antiretrovirals consequently benefited from drug-resistance testing: of these, 22 were confirmed to have failed and 19 initiated a third-line treatment.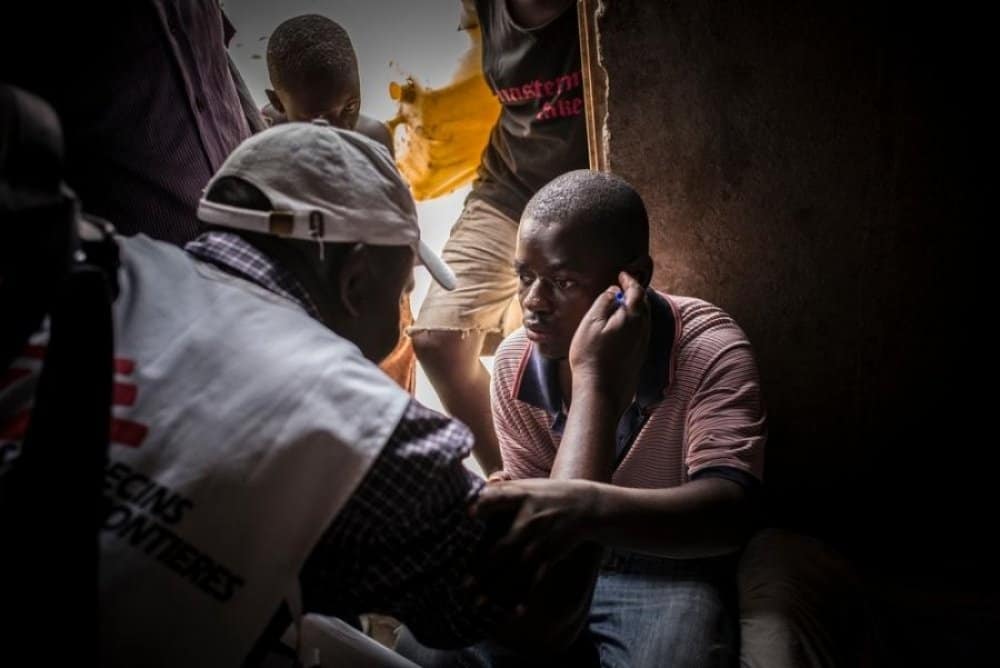 Kasese
In Kasese, we run a clinic providing basic and comprehensive healthcare to adolescents, including sexual and reproductive health services, and HIV and tuberculosis (TB) prevention, screening and treatment.
Community awareness-raising (radio shows, social media marketing, networking) and recreational activities within the clinic encourage adolescents to come for a consultation. In 2016, more than 11,700 outpatient consultations were carried out and 3,200 adolescents were tested for HIV.
In the three districts around lakes George and Edward (Kasese, Kamwenge and Ruburizi), we run a project to improve detection and care for HIV, TB and malaria in fishing communities.
A proactive screening campaign, launched in February 2016 at the fishermen's landing sites, resulted in 13,771 people being tested for HIV.
We provide technical support in five health centres offering comprehensive, decentralised care at these landing sites. In 2016, 1,234 viral load tests were performed for people on HIV treatment.
Working with refugees
Uganda currently hosts more than a million refugees, the highest number in any African country. Approximately one million are South Sudanese, who fled after intense fighting erupted in their country in July 2016.
In northern Uganda, the massive influx overwhelmed the capacity of the implementing partners of UNHCR, the UN refugee agency, particularly the new settlement at Bidibidi, which saw around 2,000 arrivals per day, and a total of almost 230,000 by the end of November.
In Bidibidi, we filled these gaps, providing outpatient, inpatient and maternity consultations, disease surveillance, and provision of clean drinking water, latrines and sanitation.
In November, our teams were trucking in 66,000 litres of water per day. Every day, between 60 and 200 people received a consultation in the MSF clinic; around 60 percent of these were for malaria.
Find out more in our International Activity Report