The conflict in Iraq continues to cause massive displacement and hardship
Years of armed conflict have disrupted health services in Iraq.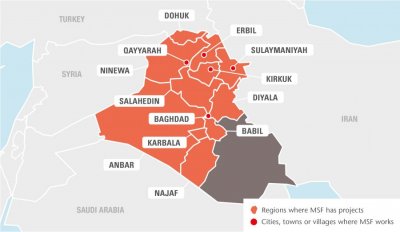 Millions of people continue to be affected by fighting and are in need of medical assistance.
Since 2014, over 3.3 million people have been displaced across the country, and while many have found their way to camps, others are living in schools, mosques and unfinished buildings.
The heartland of the Islamic Empire in the middle ages, Iraq gained independence from Britain in 1932.
A US-led invasion in 2003 has lead to instability, with insurgents, including al-Qaeda, fighting for control.
Médecins Sans Frontières/Doctors Without Borders (MSF) first worked in Iraq in 2003.
Our work in the country has provided a response to armed conflict and healthcare exclusion.
MSF's work in Iraq: 2016
We steadily increased our response during 2016, deploying teams to work across 11 governorates to provide emergency and basic medical care, including maternal care and mental health services, as well as providing essential relief items to displaced families, returnees, impoverished host communities and Syrian refugees.
NORTHWEST IRAQ
With military operations expanding in northwest Iraq, thousands of people continued to flock to relatively safer areas, including Salaheddin governorate in the centre of the country.
As local authorities and international aid organisations were unable to cope with the influx, we started to run mobile clinics in the city of Tikrit and the surrounding areas in August.
Since the start of the project, 15,339 consultations have been conducted.
In Al Anbar province, we opened a secondary healthcare centre in Amriyat Al Fallujah camp, which hosts around 60,000 Iraqis displaced by conflict in Fallujah and Ramadi.
In October, our teams in Kirkuk governorate started to provide healthcare, including psychological and psychosocial support, for displaced people and war-wounded patients from Hawija district.
They also ran mobile clinics offering primary healthcare, first aid and emergency referrals to hospitals in Kirkuk city.
MSF doctor Nina Rajani discusses her work in Kirkuk on Everyday Emergency, the MSF podcast
Mosul
In November, our mobile teams were deployed to new camps set up west of Erbil to accommodate people fleeing the battle of Mosul. As well as primary healthcare, they provided treatment for chronic diseases, and psychological and psychiatric care.
In Qayyarah, to the south of Mosul, we set up a hospital with an emergency room, an operating theatre and a 32-bed inpatient department.
During the first month, the hospital treated over 1,000 emergency patients and carried out more than 90 surgical interventions.
Teams also worked in a field surgical unit and advanced medical posts in unstable areas around Mosul, stabilising patients, performing surgery and sending them to referral hospitals when needed.
MENTAL HEALTH ACTIVITIES
In 2016, we focused on increasing psychological support for the growing number of people who have been traumatised by the recurrent violence and their precarious living conditions. Mental health and psychosocial support are an integral part of most of our projects in Iraq, for both Iraqis and Syrian refugees.
In 2016, the mental health teams provided a total of more than 23,000 consultations.
Maternal healthcare
During 2016, we continued to run our existing maternity clinic in Domiz camp for Syrian refugees and opened a new one in the village of Tal Maraq, Ninewa, as a significant number of women in this area deliver at home without the help of skilled birth attendants.
In the first three months, the team assisted over 400 deliveries. The clinic offers basic emergency obstetric and neonatal care, manages minor obstetric complications, and refers patients with more serious obstetric problems to hospital.
SUPPORT TO MINISTRY OF HEALTH HOSPITALS
In Sulaymaniyah governorate, we support the emergency hospital, providing hands-on training to improve the quality of medical services in the intensive care unit and the emergency trauma ward.
In addition, our teams work in the emergency rooms in Kirkuk and Azadi hospitals, focusing on triage and staff training.
Find out more in our International Activity Report