We are helping women and girls in some of Manila's poorest areas
More than 7,000 islands make up the Philippines, but the bulk of its fast-growing population – now more than 100 million people – lives on just 11 of them.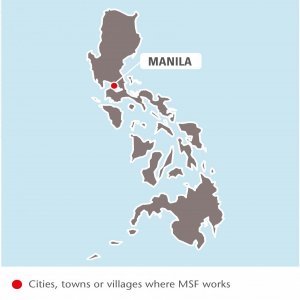 After recovering from an economic downturn in 2004, the Philippines now ranks as one of the most promising newly-industrialised countries, with its export economy moving away from agriculture to electronics, petroleum and other goods.
Although endowed with many fine beaches and a growing tourism industry, much of the country is mountainous and prone to natural disasters. It is often lashed by typhoons and other storms.
The most damaging recent storm was 2013's Typhoon Haiyan. Médecins Sans Frontières/Doctors Without Borders (MSF) ended its response to the aftermath of the typhoon in 2015.
We first worked in the Philippines in 1987.
MSF's work in the Philippines: 2016
MSF focused on improving access to sexual and reproductive health in the Philippines this year.
Following a 2015 assesment of sexual and reproductive health services in Manila's Tondo slums, we launched a programme (run in collaboration with national organisation Likhaan).
So far, we:
Support family planning services at Tondo's local clinic.
Carry out on average 1,000 consultations per month.
Improved screening, diagnosis and treatment for sexually transmitted infections.
In October, the clinic also started providing screening for cervical cancer and cryotherapy. So far, 89 patients were screened in October – of these, six tested positive for human papillomavirus (HPV), five underwent cryotherapy and one was referred.
In March 2017 (in partnership with Likhaan and the City of Manila) we completed the first round of free HPV vaccinations for more than 25,000 girls between nine and 13, most from the slums of Tondo.
Find out more in our International Activity Report