We are using two of the first new drugs for tuberculosis in over 50 years in Tajikistan
Tajikistan, a mountainous region located in Central Asia, shares its borders with Afghanistan, China, Kyrgyzstan and Uzbekistan.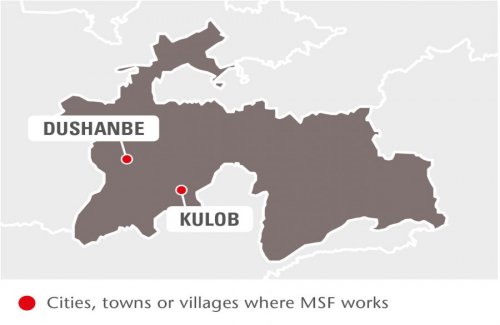 Médecins Sans Frontières/Doctors Without Borders (MSF) started working in Tajikistan in 1997.
Since 2011, MSF and the Tajikistan Ministry of Health have been working together to treat patients with drug-resistant forms of tuberculosis (TB).
For the first time in Tajikistan, MSF expanded treatment to children who have been diagnosed with multidrug resistant forms of TB.
MSF has also spearheaded the use of newer, more effective TB medications bedaquiline and delamanid in the country. Starting in 2016, eligible patients began treatment on these first new TB drugs in almost 50 years.
MSF's work in Tajikistan: 2016
MSF continues to focus on improving children's access to treatment for tuberculosis (TB) in Tajikistan.
Since 2011, we have been working with the Ministry of Health to diagnose and treat children and their families with drug-sensitive and drug-resistant tuberculosis (DR-TB).
In 2016, two promising new drugs – bedaquiline and delaminid – were used for the first time in the country. Currently, 17 patients are on bedaquiline, and another four are on delaminid.
Where possible, we aim to treat patients at home to demonstrate that comprehensive TB care for children is feasible. We also support the paediatric ward in Machiton hospital.
Comprehensive TB care model
Our comprehensive model of TB care includes:
Patient follow-up.
Active testing for new patients.
Laboratory diagnosis.
Individualised treatment.
Psychosocial support (including play therapy).
Treating children who have both TB and HIV, and/or TB and severe malnutrition.
In 2016, we worked with the Ministry of Health to finalise the third version of the paediatric guide for Tajikistan – which provides information about best practices for treating children with TB.
Since the start of the project, 147 patients with TB have been treated.
HIV and family project
In the south of the country, we run the Kulob paediatric HIV and family project.
The main objective is to reduce morbidity and mortality of children with HIV/AIDS – with a special focus on co-infections and the prevention of HIV transmission.
In 2016, we:
Assisted 79 patients (62 children, 17 family members) with treatment for opportunistic infections, prevention of mother-to-child HIV transmission, and a nutritional and social support programme.
Find out more in our International Activity Report