Turkey hosts the greatest number of refugees in the world
Turkey is a richly historical country which has, for centuries, bridged east and west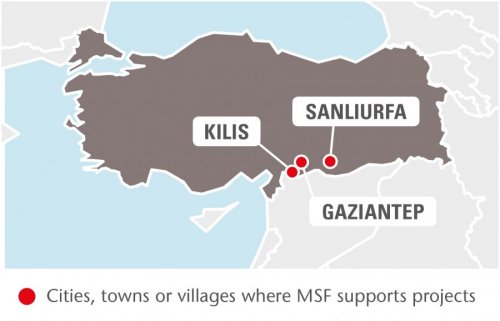 Home to more than 79 million people, modern Turkey was founded in 1923 from the Anatolian remnants of the defeated Ottoman Empire by national hero Mustafa Kemal. He was later honoured with the title Ataturk, or 'Father of the Turks'.
Under his leadership, the country adopted wide-ranging social, legal, and political reforms.
Médecins Sans Frontières/Doctors Without Borders first worked in Turkey in 1999.
Since then, we have responded to natural disasters, such as the 2011 earthquake, and provided healthcare for refugees and migrants.
Today, we are supporting civil society organisations who are working with Syrian refugees.
For up-to-date information on our work in Turkey, follow @MSF_Turkiye on Twitter.
MSF's work in Turkey: 2016
By the end of 2016, Turkey was hosting the largest refugee population in the world – over three million – of whom 2.9 million are Syrian.
Around 2.9 million Syrian refugees in Turkey live in precarious conditions outside camp settings with insufficient access to basic public services.
Humanitarian concerns were pushed further down the political agenda following the failed coup attempt on 15 July, and the political turmoil that continued under emergency law in the second half of the year.
Although our authorisation to work in the country expired in June, we continued to provide financial and technical support to local NGOs working on the Syrian-Turkish border. Teams in Turkey also gave remote support to medical staff in Syria.
Kilis
We worked with partners to offer primary healthcare and psychosocial support to Syrian refugees.
In 2016, 1,354 individuals and 810 families received psychotherapy consultations.
Şanlıurfa province
An MSF-supported local partner organisation conducted 1,341 individual and 69 group counselling sessions in Sanliurfa.
We supported another local NGO's psychosocial support programme in Akçakale, which provided 2,554 individual consultations.
Until the closure of Akçakale transit camp in May 2016, we also helped with primary healthcare services, psychosocial care, water, sanitation and provided relief items.
GAZIANTEP
We collaborated with an international medical humanitarian organisation to provide treatment to Syrian refugees in the Voluntary Health Centre for People under Temporary Protection, which offered paediatric and sexual and reproductive health (SRH) consultations.
We concluded our activities in April 2016, having carried out SRH consultations with more than 2,500 women.
Find out more in our International Activity Report