Ordinary people are bearing the brunt of an increasingly brutal conflict
Yemen is in the midst of a civil war.
Since March 2015, a Saudi-led coalition has been fighting anti-government Houthi forces, resulting in widespread destruction, bombing and gun battles.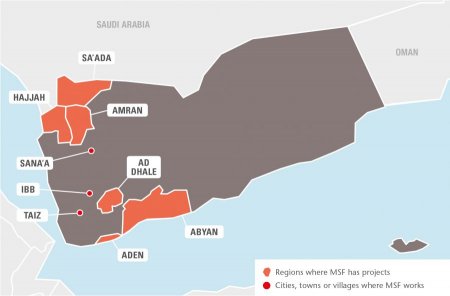 Ordinary people are bearing the brunt of an increasingly brutal conflict. Roughly 14.8 million people currently have no access to healthcare, and more than three million people have fled their homes.
Severe water shortages combined with airstrikes, sniper attacks and a fuel blockade have rapidly turned this conflict into a humanitarian crisis.
More than two years of war have unleashed a cascade of deadly consequences across the country, from the unprecedented outbreak of cholera earlier this year, to the severe malnutrition stalking the countryside as the cost of basic food soars.
Meanwhile, hundreds of health centres have been damaged or destroyed, deprived of essential supplies or abandoned by health workers who have not received their government salaries for more than a year.
The dire needs across Yemen have led MSF to massively scale up medical operations.
We have nearly 1,600 staff members across the country, including 82 staff members from abroad, working in 13 hospitals and supporting 18 more.
Yet the rising needs far exceed what we can address. While all parties to Yemen's conflict bear some level of responsibility for the current crisis, the Saudi-led coalition's continued blockage of the main aid routes into the country is a particularly punitive measure against defenseless civilians.
Cholera outbreak
The number of cholera cases reported in MSF treatment centres has significantly decreased since the peak of the outbreak. As a result, we are closing the majority of our cholera treatment centres or reducing their capacity.
The weekly number of admissions in MSF cholera treatment centres in Yemen shrank from 11,139 in the third week of June – at the peak of the outbreak – to 567 in the second week of October.
"The cholera outbreak is not over but it is no longer our medical priority in Yemen," explains Ghassan Abou Chaar, MSF country manager in Yemen.
"However, this should not eclipse the dire health situation of millions of Yemenis who are unable to access basic primary healthcare"
Since the beginning of the outbreak, MSF has admitted more than 103,000 patients to 37 cholera treatment centres and oral rehydration points.
At the peak of the outbreak, MSF was employing or distributing financial compensations to 685 additional health workers to treat cholera patients.
MSF's activities in Yemen
MSF has been working in 13 hospitals and health centres in Yemen and providing support to 18 hospitals or health centers in 11 Yemeni governorates: Taiz, Aden, Al-Dhale', Saada, Amran, Hajjah, Ibb, Sana'a, Hodaida, Abyan and Lahj.
"The healthcare system has been decimated: medical staff have fled the country, facilities have been destroyed and medical supplies cut."
Saada
An international MSF team returned to Haydan hospital in February 2017 after insecurity forced us to withdraw in August last year. We run the emergency room, the maternity unit and the in-patient department inside the hospital.
We also provide assistance in the emergency room and the maternity department of Shiara Hospital, which had been hit by a missile in January 2016. We also support health structures in Yasmim and Noshour.
Ad Dhale
We work in partnership with the hospital in Al Dhale and district health centres in Al Azariq and Qatabah, running emergency rooms, outpatient consultations, surgeries, inpatient services, patient referrals, paediatrics, nutrition programmes and maternity care.
After a rise in war-wounded patients in Damth, we began supporting the ER in Damth health centre – the only MSF location under Houthi control in the governorate.
ADEN
We are running an Emergency Surgical Hospital in Sheikh Othman district, in the north of the city. The hospital provides free medical care in the emergency room and the in-patient ward, as well as in the operating theatre.
We also provide mental health and physiotherapy consultations. We are still seeing survivors of landmines and unexploded ordnance blasts coming from Aden, Taiz, Lahj and Ad Dhale. A medical doctor and nurse conduct weekly visits to Aden Central Prison to provide primary healthcare services. An average of 50 consultations is provided every week.
Taiz
We are running lifesaving medical activities on both sides of the frontlines in Taiz, Yemen's third largest city, where most hospitals have closed due to the conflict.
In Al Houban neighbourhood, we run a Mother and Child hospital as well as a trauma centre for war-wounded and trauma patients. In the enclaved city centre, we support Al Jomhouri hospital for maternity services, the Yemeni-Swedish hospital for paediatrics, Al Thawra hospital for medical and emergency surgical care, and Al Rawdah hospital for emergency war wounded patients.
Most of the wounded are coming from the city centre, where many civilians are caught in the middle of intense fighting, struggling for food and survival. The patients we see in Taiz mainly suffer from injuries due to airstrikes, blasts, shellings, gunshots, snipers fire and most recently from landmines.
Movement in and out of the city remains restricted and dangerous for civilians and humanitarian workers. We are also providing medicine to the emergency room and emergency operating theatre in Khalifa Hospital in Al Turba in Taiz.
Amran
We run the emergency room, the in-patient department, the intensive therapeutic feeding centre, the operating theatre and the maternity unit in Al Salam hospital. We support health centres in Al-Qafla, Huth and Harf Sufyan through healthcare provision, donations of medicine, oxygen, logistical equipment, electricity, human resources and a referral system.
We are providing medical supplies, training personnel in emergency care, repairing and improving damaged structures, and running ambulances in a number of health structures in Amran Governorate.
HAJJAH
In Abs Hospital, we are currently running the emergency room, the paediatric ward, the maternity unit and emergency surgery with post-operative care, including mental health support for both patients and caretakers.
In addition, we opened an in-patient therapeutic food centre within the hospital in early December 2016. Through a system of mobile clinics, our teams provide basic medical care to people in Abs district while monitoring the epidemiological and nutritional situation. Mental health services are also provided through outreach activities for the people in and around the displacement sites. This mobile clinic programme was resumed in February.
In Hajjah city, we have been supporting the main public referral hospital with emergency care, surgical services, intensive and post-operative care since August 2015. We began running maternity services in July 2016.
Sana'a
We are continuing to support the emergency room in Al Kuwait hospital in Sana'a. In addition, we are donating emergency supplies to Al Jumhouri and Al Thawra hospitals. We provide war wounded kits in the districts surrounding Sana'a, like Arhab, Nihm, Hamdan or Jihanah. We are also supporting the Mother and Child hospital at Al Sabeen in Sana'a.
IBB
Due to our inability to run activities according to our principles of independence and impartiality, we withdrew from Al-Thawra Hospital in Ibb on 20 April 2017. We will continue to support the hospital for the next two months with donations.
We provided life-saving care in the emergency room of the hospital treating over 41,000 patients, half of them critical, in 2016, and reinforced the hospital's capacity to manage a mass influx of trauma patients. We have obtained permission to independently assess other medical needs in Ibb Governorate to launch a new project.
We are still working in the General Rural Hospital of Thi As Sufal district. We are directly providing emergency medical care, life-saving surgeries, and working in the in-patient ward for the most severe cases.
Lahj
We have been supporting Ibn Khaldoun Hospital in Lahj with regular donations of medical supplies since December 2015 and Al-Razi hospital in Abyan since February 2016.
The support includes drugs for the emergency room and emergency operating theatre supplies to Lawadar Hospital, Abyan and Al-Razi Hospital in Abyan.