Belarus is key to a study to find shorter, less toxic and more effective treatments for tuberculosis
In the Soviet post-war years, Belarus became one of the most prosperous parts of the USSR, but with independence came economic decline.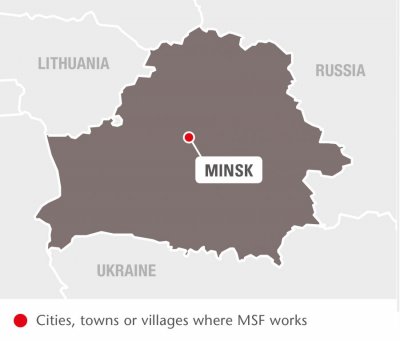 The landlocked country, sat between Poland and the Russian Federation, has a population of 9.5 million.
Its capital, Minsk, is known for its monumental Stalinist architecture.
Patient story
Anastasia, 30, from Minsk, was diagnosed with multidrug-resistant TB (MDR-TB) in November 2015.
"To learn that you are sick – it's a shock. You don't feel anything, it doesn't hurt. But then you are scared: what will they say at work?
I quit my job, spent three months in hospital. I felt bad because of the medicines: I was nauseous, my stomach hardly worked, I had no strength to get up, I was dizzy, I had pain in my joints.
You have to take your drugs daily under medical supervision because no sane person can bring himself to swallow the stuff that produces such severe side effects.
And it's every day, not just for a week, a month or even a year, but for 18-20 months… MSF were there for me. Many thanks for their invaluable support. How many times have I seen the joy in the eyes of patients coming from the counsellor's office!"
MSF's work in Belarus: 2016
MSF is working with the Ministry of Health in Belarus to improve adherence to treatment for patients with MDR-TB.
Belarus is listed as an MDR-TB high burden country in the World Health Organization's 2016 Global Tuberculosis Report. We are supporting the Ministry of Health in four TB facilities:
Republican Scientific and Practical Centre of Pulmonology and Tuberculosis (RSPC PT),
1st and 2nd City TB dispensaries in Minsk,
City TB hospital in Volkovichi, Minsk region.
We provide psychosocial support (counselling, food parcels, transport vouchers, support by social workers) to between 150 and 200 patients each month to help them stay on their treatment.
We conducted a review in 2016 and identified alcohol use disorder as one of the main risk factors for poor adherence and the team now addresses this in the programme.
By the end of 2016, we were also treating 50 patients with extensively drug-resistant TB with a new regimen containing bedaquiline and delamanid.
The project is participating in the endTB observational study (output 1). The study covers more than 15 countries and aims to find shorter, less toxic and more effective treatments for multidrug-resistant TB (MDR-TB) with fewer debilitating side effects.

We are conducting the study in partnership with Partners In Health and Interactive Research and Development. By the end of December 2016, 46 patients in Belarus had been recruited for the study.
At the end of the year, MSF and the RSPC PT obtained approval from the regulatory authorities and the ethics committee to collaborate in a clinical trial for MDR-TB that will run concurrently with the endTB study.
Find out more in our International Activity Report