We run tuberculosis (TB), mental health and cardiac care programmes in Chechnya.
The vast territory of the Russian Federation spreads from eastern Europe right across the north of Asia to the edge of the Americas – it is the largest country on earth.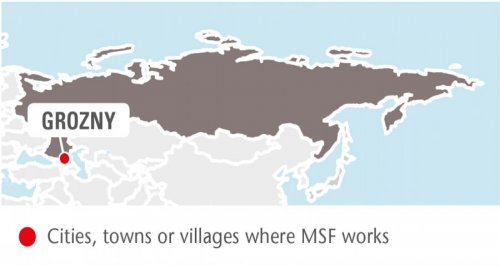 It is also one of the most populous, with 144.5 million people.
Médecins Sans Frontières/Doctors Without Borders (MSF) first started work in the Russian Federation in 1992.
We are working in Chechnya, a war-torn region of the Caucuses, running programmes focused on tuberculosis (TB), mental health and cardiac care.
Patient story
In June 2014, 32-year-old Ruslan Ozdoyev became MSF's first extensively drug-resistant tuberculosis (XDR-TB) patient in Chechnya to start a new treatment regimen containing bedaquiline. Within two months of treatment, he tested negative for TB. On 15 July 2016, Ruslan was declared cured.
"I was admitted to the hospital with the most complicated diagnosis of TB. I weighed 75kg before the disease. After I fell ill, my weight dropped to 40kg. I was taking drugs, but there was no improvement. In July 2014, they started me on a new treatment.
"In the beginning it was very tough. I was nauseous and vomited, but began to get better after some time. My weight went up to 70kg. I want to thank everyone who took care of me. Now this is the treatment that really works."
MSF's work in the Russian Federation: 2016
MSF continued to run TB, mental health and cardiac care programmes in Chechnya.
We have been working closely with the Chechen Ministry of Health for many years, implementing a TB treatment programme. Our focus is on XDR-TB (a type of TB that is resistant to second-line drugs), after handing over managment of multidrug-resistant TB (MDR-TB) to the ministry.
We procured appropriate medicines (including new and repurposed drugs) to develop reigmens that are more effective than conventional treatment for XDR-TB patients. Our programme also includes laboratory support, health promotion and psychosocial assistance for patients and their families.
In 2016, we also:
Continued care for XDR-TB patients with diabetes co-morbidity – regularly monitoring their blood sugar, adjusting their treatment as required, and helping them manager their condition.
Set 60 patients with diabetes and TB, and 79 patients with XDR-TB under treatment (December 2016).
Provided individual psychosocial care for 4,838 patients under the mental health programme.
Provided 314 group counselling sessions for victims of violence under the mental health programme.
Lana Abramova
Cardiac care in Chechnya
We continued to support cardiac care in Grozny emergency hospital and Urus-Martan hospital through:
Supplying drugs and medical equipment.
Improving quality of care for acute patients.
Organising a masterclass to improve the technical skills of the Grozny interventional cardiology team – led by specialists from the Medical University of Dusseldorf.
Admitted 1,327 acute patients to the cardiac resuscitation unit – 413 had angiographies, 397 had angioplasties.
Find out more in our International Activity Report