The conflict in east Ukraine has left a devastating psychological toll on ordinary people
We supported hospitals on both sides of the frontline during the 2014-16 conflict.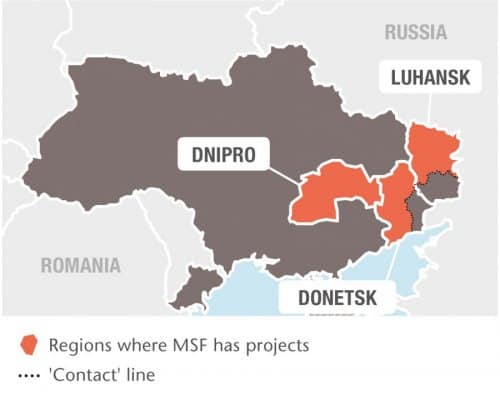 Europe's second largest country, Ukraine – home to 44 million people – is a land of wide, fertile agricultural plains, with large pockets of heavy industry in the east.
Ukraine gained independence after the collapse of the Soviet Union in 1991 and has since veered between seeking closer integration with Western Europe and being drawn into the orbit of Russia.
In late 2013, political protests erupted as the Ukrainian government backed away from an association agreement with the EU. Violent clashes between police and protesters took place.
In February 2014, Ukraine's president Viktor Yanukovych was ousted from power and violent chaos ensued. By May, tensions between western-leaning Kiev and Russian-backed separatists plunged the eastern regions of Donetsk and Luhansk into war.
Médecins Sans Frontières/Doctors Without Borders (MSF) first began working in the country in 1999. We are still responding to the 'frozen war' by treating the psychological effects. We are also providing care for tuberculosis (TB) patients in eastern Ukraine's penitentiary system.
For the latest news on MSF in Ukraine, follow @MSF_Ukraine on Twitter.
MSF's work in Ukraine: 2016
As the conflict in eastern Ukraine continued into its second year, political attempts to find a solution made little progress, and those living along the frontline bore the brunt of the violence.
Throughout 2016, we continued to run mobile clinics along the frontline and increased psychological and medical support to people living in the areas controlled by the Ukrainian government, including those who had been displaced.
Our psychologists worked in 26 locations in the southern part of the conflict zone, providing a total of 3,052 consultations for patients with acute or chronic stress.
Many had lost relatives or friends in the conflict or had fled because their homes had been damaged or destroyed. We also held group sessions to bring elderly people together, including those who had been displaced.
We ensured treatment for people suffering from chronic diseases such as diabetes and hypertension, as the conflict had interrupted their access to drugs and care. In 2016, we conducted a total of 27,835 outpatient consultations.
Handover of activities in Bakhmut
Our teams worked in 40 locations in and around Bakhmut and helped more than 40,000 residents and 10,000 displaced people.
In July, when they saw that the capacity of the local health system had improved and people were receiving the necessary care, they withdrew from the area.
In other areas, we donated medical supplies to health facilities and handed over our activities, equipment and supplies to other organisations.
Drug-resistant tuberculosis (DR-TB)
We continued to support and treat prisoners with DR-TB in pre-detention centres in Mariupol and Bakhmut and in the penal colony in Dnipro.
In addition to medical care, we provide psychosocial assistance to support patients through the difficult treatment regimen.
Find out more in our International Activity Report.