We provide mental healthcare to residents of Caracas, one of the most violent cities in the world
On South America's northern coast, Venezuela is a country of striking natural beauty.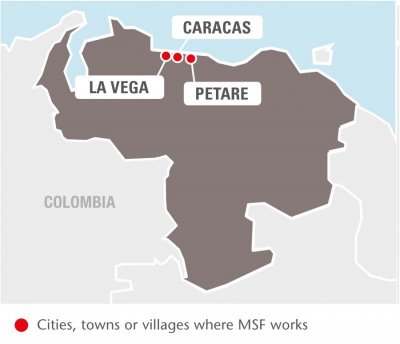 It is also among the most highly urbanised countries in Latin America.
The country has a wealth of natural resources, yet many Venezuelans live in poverty, often in shanty towns, some of which sprawl over the hillsides around the capital, Caracas.
Médecins Sans Frontières/Doctors Without Borders (MSF) first worked in the country in 2015.
In 2016, we began providing mental healthcare to victims of urban violence in Caracas.
MSF's work in Venezuela: 2016
In collaboration with the local organisation Fe y Alegría, we offered comprehensive care for victims of sexual violence.
The project started in mid-2016 in two of the city's most dangerous neighbourhoods, Petare and La Vega.
In these areas, criminal gangs use violence – including robbery, murder, extortion and kidnapping – to gain territorial control.
Our psychologists provided 367 individual mental healthconsultations, and during these sessions, they detected and addressed 57 cases of sexual violence.
Our teams seek to mitigate the consequences of violence on people's mental health, by training community leaders and educators and organising psychosocial activities.
These include classes and workshops on topics such as anxiety control, fear, psychological first aid and sexual violence prevention.
This year over 7,800 volunteers participated.