MSF responds to outbreaks of disease and fills gaps in basic and emergency healthcare
Situated in the Horn of Africa, Ethiopia is the most populated landlocked country in the world with a population of over 90 million.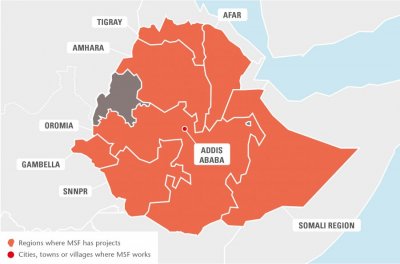 Unlike most other African countries, Ethiopia has maintained its freedom from colonial rule apart from a five-year occupation by Mussolini's Italy in 1936-41. It was a founder member of the United Nations.
After a series of famines in the 1980s, the country has begun to recover and is now the largest economy in East and Central Africa.
Médecins Sans Frontières/Doctors Without Borders (MSF) first worked in Ethiopia in 1984.
Our work in the country involves responding to armed conflict and endemic/epidemic disease.
MSF's work in Ethiopia: 2016
Diseases such as kala azar are endemic in Ethiopia. In 2016, we continued to fill healthcare gaps and respond to emergencies and the needs of the growing refugee population.
Somali region
DOOLO
In Wardher hospital and other health facilities in Danod and Yucub districts, our teams provide both inpatient and outpatient services, including primary and reproductive healthcare, and treatment for malnutrition and tuberculosis (TB).
In 2016, in partnership with the Regional Health Bureau, we treated around 45,000 patients.
LIBEN
Throughout the year, Dolo Ado reception centre saw 3,075 new arrivals, mostly women and children. The team offers free basic healthcare, nutritional support and routine immunisations. Basic healthcare is also available at three health posts we manage in Buramino and Hiloweyn camps.
Another team works in the health centre in Dolo Ado town, which is the referral point for the refugees as well as local people.
The health centre has an emergency room, maternity and paediatric units, an operating theatre and X-ray facilities, and runs nutrition and TB programmes. By the end of 2016, there were over 203,887 Somali refugees in five camps in Liben zone.
FIK
Teams based at the local district hospital of Fik, in central Somali Region, work in the emergency room, operating theatre, maternity ward and stabilisation centre for severely malnourished children.
We also support a TB treatment programme and donate drugs and basic medical instruments to the hospital
DEGEHABUR
In Degehabur, we provides maternal health services, including ante- and postnatal care, family planning and treatment for sexual and gender-based violence.
We also helped to set up inpatient and outpatient departments, the emergency room and a stabilisation centre for severely malnourished children with medical complications in Degehabur hospital.