Once the breadbasket of southern Africa, Zimbabwe is now a nation with an economy in deep crisis.
Poverty and unemployment are endemic and political strife and repression are commonplace in Zimbabwe.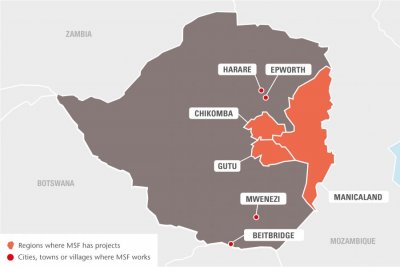 The landlocked country of 14.2 million people has for the past 35 years been led by President Robert Mugabe, the pro-independence campaigner who wrested control from a small white community and became the country's first black leader.
Zimbabwe's economy is in decline, with very few funds available for any public expenditure and social services.
As a result, the health sector faces numerous challenges, including shortages of medical commodities including essential medicines.
The country has one of the highest HIV prevalence rates in the world. However, access to treatment has improved in recent years.
Médecins Sans Frontières/Doctors Without Borders (MSF) has worked in the country since 2000, providing wide-ranging HIV/AIDS, tuberculosis (TB) and mental healthcare.
MSF's work in Zimbabwe: 2016
While HIV prevalence has decreased from 30 percent in the early 2000s to 15 percent today, there are still major gaps in services, such as the availability of routine viral load monitoring and second line antiretroviral (ARV) treatment.
Cervical cancer is an emerging health problem, with women living with HIV five times more likely to contract it than those who are not.
Harare
We offer comprehensive support to victims of sexual violence in Zimbabwe's capital, and developing comprehensive services for adolescent care in the urban district of Mbare.
In Epworth polyclinic, a comprehensive package of HIV, TB and multidrug-resistant TB (MDR-TB) care is adapted for all ages. Cervical cancer screenings and early treatment strategies are provided for all HIV-positive women.
We are continuing to reconstruct and repair boreholes in the city's most vulnerable neighbourhoods, providing access to clean water as a strategy to prevent outbreaks of water-borne diseases such as typhoid and cholera.
We support the diagnosis and treatment of HIV, TB and mental health in Chikurubi maximum security prison and offer psychiatric treatment, care and support to patients in Harare central hospital's psychiatric unit.
We also provide decentralised psychiatric care and community follow-up after discharge to prevent relapse and re-admission to the hospital.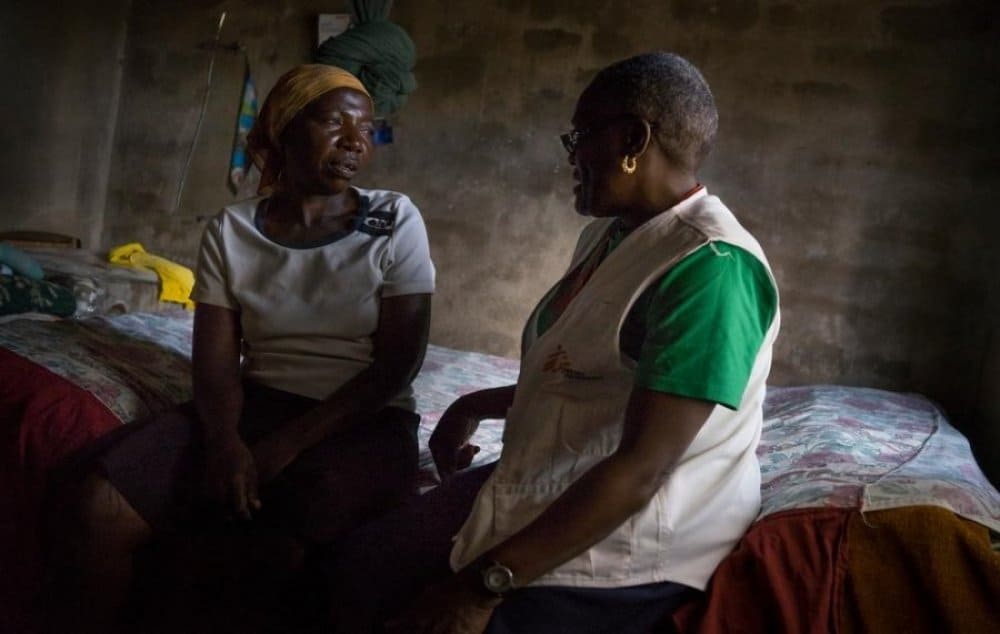 Gutu
In Gutu, where we have taken a community-based approach to managing large cohorts of stable HIV patients since 2011, the initial findings of a large population-based survey by MSF Epicentre in June 2016 indicate that the district reached 86-94-86 and are on track to reach the 90-90-90 goals.
(By 2020, 90 percent of all people living with HIV will know their HIV status, 90 percent of all people with diagnosed HIV infection are on sustained antiretroviral therapy, and 90 percent of all people receiving antiretroviral therapy have viral suppression.)
In Mwenezi, we are working with the MoHCC to fully implement 'test and start'– beginning antiretroviral treatment as soon as possible after diagnosis – for approximately 18,000 people living with HIV.
We continued to support the MoHCC to implement new models of care and CAGs – community groups in which people take turns picking up ARV drug refills – as well as providing preventive screenings and early treatment strategies for cervical cancer in six district health centres.
In Manicaland, MSF supports the roll out of CAGs throughout the province and routine viral load monitoring of patients taking ARVs in five districts. In Chipinge district and Mutare Provincial Hospital, MSF supports the MoHCC in treating non-communicable diseases such as diabetes and hypertension.
We also provided treatment to a total of 26 MDR-TB patients in Epworth, Gutu and Mwenezi.
In Beitbridge, teams provided mental health support and medical care, including HIV and TB testing and refills to Zimbabweans who had been deported from South Africa.
Find out more in our International Activity Report