After withdrawing nearly four years ago, we began treating patients again in May 2017
We are now supporting a hospital's therapeutic feeding programme and paediatric ward in Puntland.
In collaboration with Somalia's Ministry of Health, we are working in Mudug Regional Hospital, Galkayo North, in Somalia's Puntland region.
With an average of 10 new admissions per day, medical staff in the intensive therapeutic feeding centre have already treated 349 children under five for severe acute malnutrition, with patient numbers peaking at 111.
A total of 201 children have also been admitted to an isolation ward and treated for measles.
In addition, we have admitted 100 children to the paediatric ward and provided 2,297 outpatient paediatric consultations since the beginning of June 2017.
Since withdrawing our teams from Somalia four years ago due to a series of extreme attacks on our staff, we have continuously monitored the situation in the country and re-engaged with the relevant authorities, assessing whether conditions allow our staff to operate safely.
We are reiterating the need for all parties to the conflict to support our medical care to the people of Somalia and to respect the safety of the humanitarian aid workers who risk their lives to care for them.
Because of past experience, our return to Somalia is both cautious and modest. Our planned medical and humanitarian programmes in Puntland will be on a limited scale for now.
Our presence in Somalia, the scope of our programmes and the potential expansion of our activities to other regions in Somalia will fully depend on the acceptance, facilitation and active support received from the authorities and communities that MSF serves.
MSF's work in Somalia: 2013
The following is an extract from our 2013 Activity Report
In August 2013, Médecins Sans Frontières/Doctors Without Borders (MSF) closed all of its projects in Somalia after 22 years of continuous operations.
Leaving Somalia was an extremely difficult decision to make.
A series of violent attacks on our personnel took place with the tacit acceptance – or active complicity – of armed groups and civilian authorities.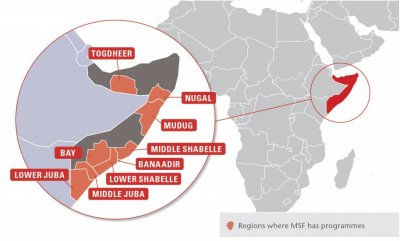 The minimal conditions necessary for operations were not respected, and hence we ceased supporting health facilities in Somalia by mid-September 2013, handing them over to government entities and humanitarian organisations where possible.
In and around Mogadishu
Nine kilometres northwest of Mogadishu, in Dayniile, we supported a 60-bed hospital with an emergency room, operating theatre, intensive care unit, paediatric unit, feeding centre and maternity facilities.
The team performed 646 surgical procedures and over 8,272 consultations in 2013. Our 40-bed hospital in the Jaziira district of Mogadishu, which mostly catered to displaced populations, carried out some 25,700 consultations and 2,200 hospital admissions this year, and treated over 330 severely malnourished children.
To improve access to quality basic and specialist healthcare for children, we ran the only paediatric hospital in Mogadishu, in Hamar Weyne.
We also ran health clinics for displaced populations and residents in the Wadajir, Dharkenley and Yaaqshiid districts.
Bay region
We began supporting Dinsor hospital in Bay region in 2002.
It is the main referral hospital for the entire region, and is especially active in providing maternity services and treating malnutrition, tuberculosis and kala azar (visceral leishmaniasis).
In 2013, the team at the 60-bed hospital performed 16,208 outpatient consultations, around 1,458 antenatal consultations, and treated more than 680 malnourished children.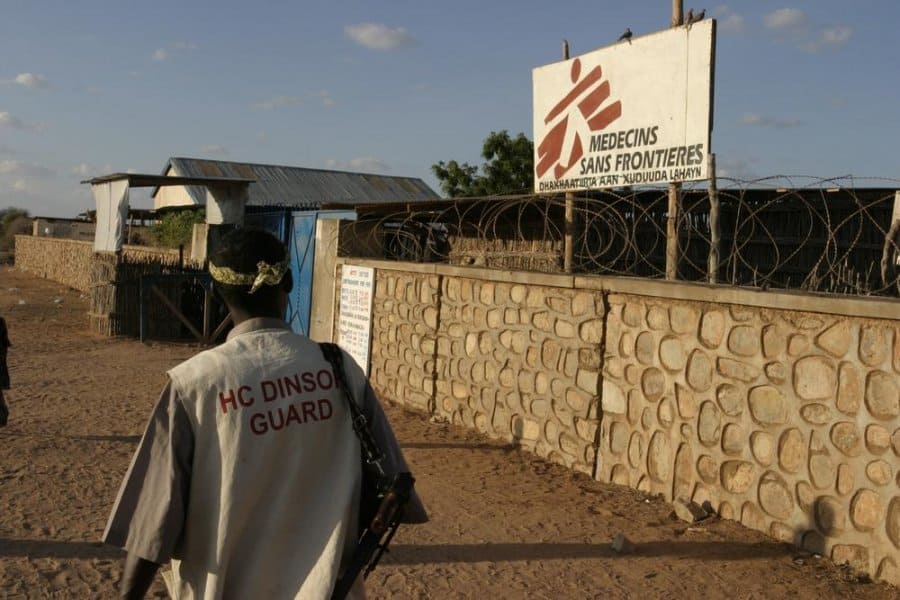 Lower Shabelle region
The Afgooye district hospital serves displaced people and residents of the Afgooye Corridor with an outpatient and 30-bed inpatient department, emergency room, maternity facility and an outpatient feeding programme.
Between January and September, the hospital conducted 11,408 medical consultations, admitted 738 patients to its wards and assisted the delivery of 953 babies. The Qatar Red Crescent Society assumed support of the hospital following our withdrawal.
Middle Shabelle region
We provided outpatient care, maternal and child health services, vaccinations and nutritional support at the Jowhar maternity hospital and health centres in Kulmis, Bulo Sheik, Gololey, Balcad and Mahaday. The Mahaday and Gololey facilities also treated TB.
Mudug region
We ran projects in two referral hospitals in the divided city of Galkayo. In the Ministry of Health's referral hospital in Galkayo North, we offered paediatric outpatient and inpatient care, maternity services, feeding programmes and TB treatment. Our teams carried out 33,824 consultations in 2013.
In addition, we ran a satellite programme for TB treatment in Burtinle in Nugal region.
In the hospital in Galkayo South, we provided surgery and paediatric care, maternity services, nutrition programmes, TB treatment and immunisations.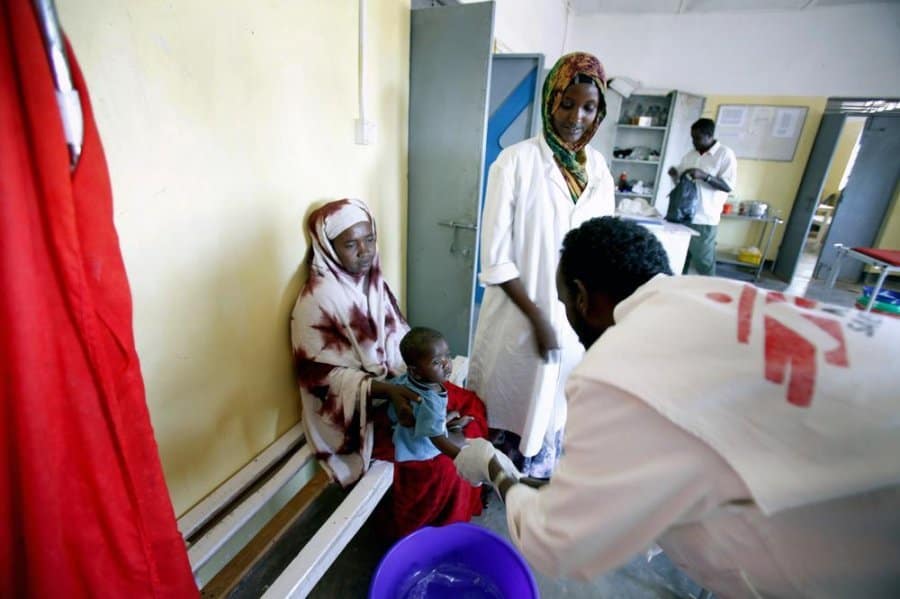 Middle Juba
Our hospital in the small rural town of Marere served as the referral hospital for the whole of Middle and Lower Juba, and Gedo regions, providing basic and specialist healthcare, TB treatment, nutritional services and emergency obstetric care to a huge catchment population.
Lower Juba
In the port city of Kismayo, we ran an inpatient nutrition programme for children under five, with special wards for those suffering from measles and cholera.
This facility opened during the nutritional crisis of 2011 and saw a steady stream of children thereafter: 5,183 received treatment between January and September 2013. The International Committee of the Red Cross opened a similar structure at Kismayo hospital in October to compensate for MSF's withdrawal.
Somaliland
We had been supporting the inpatient, maternity and surgical facilities of the 160-bed Burao hospital in the Togdheer region of Somaliland since 2011. Prior to our withdrawal, we conducted 775 surgical interventions, admitted 1,602 people to the inpatient department and assisted in the birth of 720 babies.
We also intervened in three prisons in Somaliland, carrying out medical consultations, improving water and sanitation facilities and distributing relief supplies.