More than 856,000 refugees and migrants arrived by sea or land in Greece in 2015
Located at the crossroads of Europe, Asia, and Africa, Greece is a major entry point for refugees and migrants making the journey to Europe.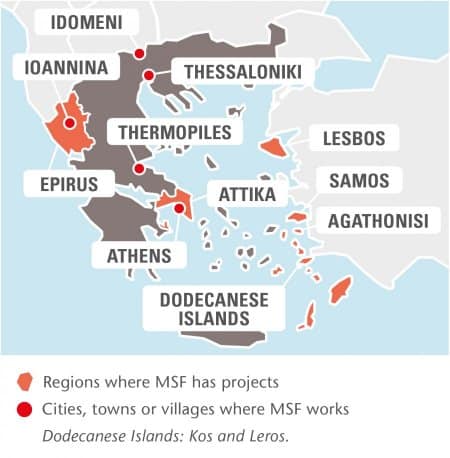 Until March 2016, thousands of people fleeing war and persecution were arriving on Greek islands every day before continuing their journeys across Europe.
However, the closure of the Balkan route and the EU deal with Turkey in March left migrants and refugees stranded, without access to basic services, adequate shelter or information on their legal status.
Prior to the current refugee crisis, six straight years of recession beginning in 2008 reduced Greece's economy by about a quarter of its previous size and drove unemployment to record levels.
Médecins Sans Frontières/Doctors Without Borders (MSF) first worked in Greece in 1991 providing healthcare for people otherwise excluded.
Today, our attention is focused towards Greece's Dodecanese islands – the islands where many refugees first make land in desperate conditions – and on the border with Former Yugoslav Republic of Macedonia.
MSF's work in Greece: 2016
In 2016, we shifted our focus from providing lifesaving surgery and medical care to people on the move to addressing the specific needs of those stuck in unsanitary camps.
LESBOS
After the signing of the EU–Turkey deal, the number of migrants arriving on Greek islands decreased sharply.
In 2016, we carried out 12,830 basic healthcare consultations across the island, through our mobile clinics and inside Moria and Kara Tepe registration centres.
In Matamados, in the north of the island, we ran a transit centre for new arrivals and organised buses to transport them to registration centres. After March, the Moria hotspot became a pre-removal detention centre, offering little guarantee of respect for human rights. We decided to halt all of our activities in Moria, including transport, and hand over our medical services to other organisations.
In September, we opened a clinic in Mytilene town centre offering sexual and reproductive healthcare, treatment for chronic diseases and mental health support. A team also started outreach activities in Moria to identify specific vulnerabilities and mental health needs.
SAMOS
On Samos island, we provided basic healthcare for new arrivals at the port, as well as in the prison, at the request of the local police. We also deployed a medical land rescue team (MLRT) to give first aid, distribute relief items such as blankets, clothes and tents, and provide transport to people who needed to reach the camps and medical facilities further inland.
The MLRT assisted 5,721 people before the activity was stopped in May. Another MLRT operated on Agathonisi island, south of Samos.
Before an official hotspot was constructed, we provided 18,700 meals in the Samos migrant camp, and distributed 1,470 tents and 2,800 blankets.
Inside the Samos hotspot, conditions rapidly deteriorated between March and December. It was initially built as a detention centre to hold 280 people.
In 2016, the Greek authorities expanded the capacity to 600 places but by the end of the year, the population had grown to over 2,000, and new arrivals had to sleep in tents scattered across cleared patches of forest.
We provided mental health services through 170 individual consultations and 249 follow-up consultations between March and December.
SEARCH AND RESCUE ON THE AEGEAN SEA
We launched search and rescue activities off the island of Lesbos in collaboration with Greenpeace, assisting more than 18,117 people in 361 interventions between November 2015 and March 2016.
Due to the sharp decrease in arrivals, we halted these activities in August.
ATHENS
We operated three clinics in Athens to respond to the specific needs of migrants and asylum seekers living in formal and informal accommodation in the city.
We offered basic healthcare in Eleonas camp, Korinthos detention centre and Piraeus port, carrying out 6,734 consultations during the year and accompanying 623 patients for specialised medical services.
In Elliniko camp, which hosted up to 4,000 refugees in 2016, the team provided sexual and reproductive healthcare and mental health support.
ATTICA REGION
At the height of the emergency, our teams distributed 6,600 meals and 9,660 blankets and provided over 1,680 medical consultations to migrants transferred from the islands to the mainland.
Our teams worked across the region, offering mental health support to people living in dire conditions in overcrowded camps in Ritsona, Malakasa, Lavrio and Aghio Andreas, and in Thermopiles, where sexual and reproductive healthcare was also available.
Between June and December, our teams carried out 573 consultations with 184 patients.
Northern Greece
With the increasing restrictions on movement thousands of people attempting to cross the border between Greece and the Former Yugoslav Republic of Macedonia were stranded in the informal camp at Idomeni in squalid conditions, with little access to services. Between January and June, we provided shelter, water, sanitation facilities and medical care through 27,085 consultations.
Services included basic healthcare, treatment for chronic diseases, sexual and reproductive healthcare and mental health support.
After the camp was dismantled, thousands of people were transferred to camps around Thessaloniki. Our teams offered mental health support in five of the camps, conducting a total of 1,177 individual sessions and 85 group sessions between July and the end of the year.
Further west, we provided mental health services in Ioannina from April, and until September, ran a mobile clinic offering basic healthcare to three camps in the area. 1,487 consultations were provided, and 249 of those patients were referred to the public health system for specialised medical care.
Find out more in our International Activity Report