Italy continues to be the main landing point for migrants and refugees coming to Europe via the central Mediterranean
Italy has long been a landing point for migrants and refugees.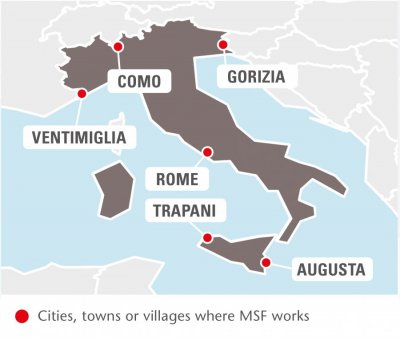 In 2016 more than 180,000 people arrived by sea, mainly from countries such as Eritrea, Nigeria, Somalia, Sudan and Syria.
New arrivals face many health challenges when reaching Italy, in both reception and detention centres.
Médecins Sans Frontières/Doctors Without Borders (MSF) first worked in Italy in 1999.
MSF's work in Italy: 2016
Italy continues to be the main landing point for migrants and refugees coming to Europe via the central Mediterranean.
In 2016, 180,746 people arrived by sea, mainly from sub-Saharan Africa.
SICILY AND SOUTHERN PORTS
Although there has been a constant flow of arrivals over the past few years, the Italian authorities have not developed an adequate reception system to respond to their specific humanitarian needs.
In 2016, we launched a mental healthcare project in 16 reception centres in Sicily's Trapani province, where a team consisting of cultural mediators and three psychologists screened asylum seekers for psychological vulnerabilities and provided care to those in need.
The team assisted a total of 641 patients during 99 group and 626 individual sessions. Many displayed post-traumatic or psychosomatic reactions or symptoms of anxiety and/or depression, because of past traumas and the precariousness of their current situation.
In addition, with the growing number of deaths at sea, MSF assisted people on disembarkation showing signs of trauma, for example from being shipwrecked or witnessing deaths at sea, by providing psychological first aid.
Between May and December, 31 psychological first aid operations were conducted in several Italian ports, mainly in Sicily, Calabria and Sardinia.
Northern borders
From the end of 2015 to July 2016, our teams provided medical care, shelter and support to hundreds of refugees in Gorizia, on the border with Slovenia.
A temporary centre made from 25 converted shipping containers, with a capacity of 96, had been opened there in December 2015, for people who had been sleeping outdoors after being excluded from the official reception system.
Our staff worked in partnership with the local health service and the Red Cross, and distributed relief items such as hygiene kits. In response to the urgent needs of migrants in transit at the borders with France (Ventimiglia) and Switzerland (Como), our teams collaborated with local authorities and volunteer networks to provide basic psychological and medical assistance, as well as food and other essential items.
Rome
In April 2016, we opened a rehabilitation centre for torture survivors in Rome.
Until the end of 2016, 98 patients of 22 nationalities have been assisted through a multidisciplinary approach involving medical and psychological care, physiotherapy, and social and legal assistance.
The activities are carried out in collaboration with the Italian NGOs Medici Contro la Tortura (Doctors against Torture) and Association for Law Studies on Migration.
Find out more in our International Activity Report