Thousands of people from across South America make the journey through Mexico to reach the USA in search of a better life each year
Those who pass through Mexico, including Mexicans, are at great risk of kidnapping, extortion, physical and mental abuse, and even death.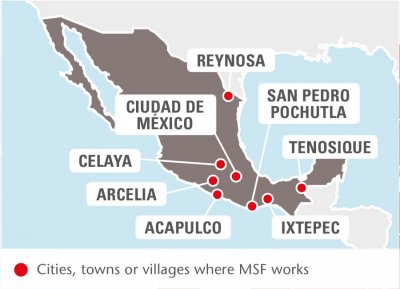 With a population of nearly 127 million people, Mexico is one of the most populous countries in the world.
Since 2007, the country's powerful drug-trafficking organisations have engaged in bloody feuding, resulting in tens of thousands of drug-related killings – terrorising millions.
Every year, an estimated 400,000 people flee violence and poverty in El Salvador, Honduras and Guatemala and enter Mexico with the hope of reaching the United States.
In Mexican territories, they are systematically exposed to further episodes of violence.
Médecins Sans Frontières/Doctors Without Borders (MSF) has been working in Mexico since 1985 filling healthcare gaps and providing migrants with medical care.
Patient

STory
Yenny Guardado, a 26-year-old Salvadoran, riding 'The Beast' – a Mexican cargo train travelled by tens of thousands of Central Americans to the US every year.
"We put our backpacks on. I was nervous, I was trembling. Some of the people on the train were banging their machetes, trying to scare the thieves away. But in the end nothing happened to us and the train went on."
"I never thought that the route was going to be like this. There are women who have the same objectives, to reach the US, but only a few decide to go on.
"Just imagine – you are thrilled, you have a dream, but then the route can take your life away."
MSF's work in Mexico: 2016
In 2016, MSF continued helping Central American migrants and refugees, as well as victims of violence, in Acapulco, Tierra Caliente, Oaxaca and Reynosa.
This year, more than 15,000 migrants and refugees from Central America were registered in the shelters where MSF works, and 2,700 participated in psychoeducational sessions or psychosocial activities.
Over 2,200 medical and 690 mental health consultations were carried out in Ixtepec, Tenosique and Celaya.
In the MSF integral care centre in Mexico City, teams provided medical and psychological support to 63 victims of inhumane treatment.
Victims of violence
In Acapulco, we offered mental healthcare to 480 victims of violence and carried out over 2,340 mental health consultations in Colonia Jardín.
In Tierra Caliente, Guerrero state, rural health posts were closed due to violence.
MATERNAL HEALTH
We provided emergency obstetric services, including caesarean sections, in Arcelia hospital and started to run mobile clinics in San Miguel Totolapan and General Heliodoro Castillo municipalities towards the end of the year.
CHAGAS
The Chagas project based in San Pedro Pochutla, Oaxaca, was closed in April 2016, and activities were handed over to the Ministry of Health.
MISSING STUDENTS
Following a confrontation between groups of teachers and state security forces in July, MSF visited the community of Nochixtlan, Oaxaca.
The team treated the wounded and offered mental health consultations to the families of the deceased and missing.
REYNOSA HANDOVER
We have been running a project in Reynosa focused on improving emergency care in the general hospital since 2014.
In September, we handed it over to the Ministry of Health, but has set up a new project providing medical and mental healthcare for victims of violence.
Find out more in our International Activity Report